☆ November 15, 2021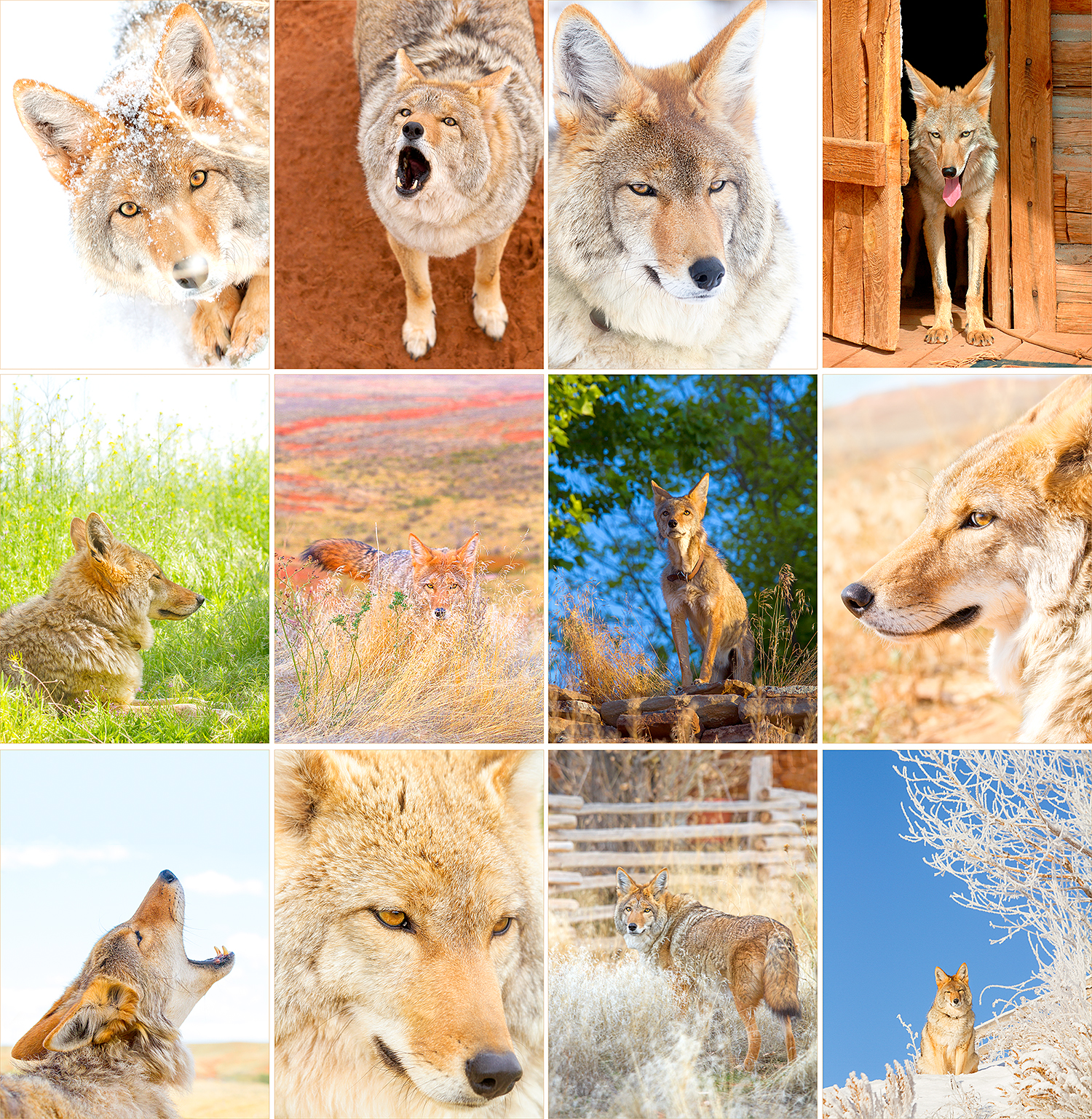 Howdy, stranger. By which I mean, "howdy" to you, I'm stranger. I know I've been MIA, but I needed some time offline.
This year has been so freaking weird, too weird to condense into words just yet. A constant, though, has been how much joy Charlie's pictures bring me every day.
I love having Charlie's photos everywhere. Last year, I cut apart old calendars and taped up an entire wall of his pictures. I look at his framed photos and the pictures of him that other artists have sent me. I have him everywhere. And his magic leaps out of the 2-D and becomes multidimensional reality.
This is why I decided to continue with Charlie's annual calendar – to share that joy.
This year's calendar includes images from 2007 through 2021, all of which have never been used in calendars before. It's really beautiful. CLICK HERE see all the details and bigger pictures.
Life is confusing but the Farmily is doing great. Everyone is healthy and wonderful, and it's been a season of babies. I'll share more when I dive back into the web, which will be soon.
I miss you, too.
☆ June 8, 2021
One of our hens got broody and made her nest on the edge of the haystack, three bales high. One day, I went into the barn and saw a scattering of eggs on the ground that the hen had kicked from her nest. Nestled under her body were two little chicks. I'm guessing the hen kicked out her eggs so her babies would have more room, to protect them from falling off the haystack. But it was still too dangerous for them there on the edge, still too easy for them to fall.
I put the chicks in a bucket, then grabbed the hen and carried her to our chick nursery – a dog house made out of logs and filled with straw, which the dogs have never used. It sits in my garden and is the perfect interim home for chicks before they graduate to the chicken house.
I put the hen in the nursery, trapped her in with the chicken wire door, then brought her chicks to her and set them up with water and food. Then I gathered up the eggs, which had landed gently on the loose hay blanketing the floor of the barn, and put them in my yogurt maker to see if any would hatch.
It was a long shot – I didn't know if the eggs had sat on the ground overnight or if my yogurt maker incubator would even be the correct temperature. But two days later, this happened!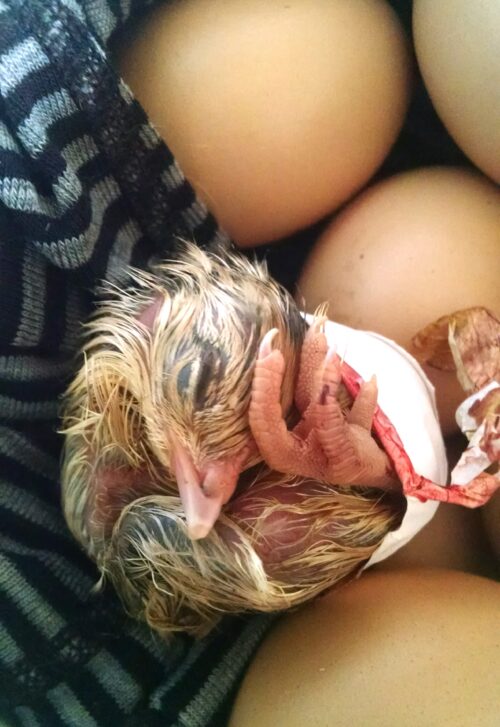 They say baby birds imprint on whoever is present when they hatch, but I imprinted on this chick. I tucked my sweater into my jeans and carried the chick around in the pocket of warmth between my sweater and skin like a chick-mama-kangaroo. When I was in bed, the chick slept on my chest under the covers.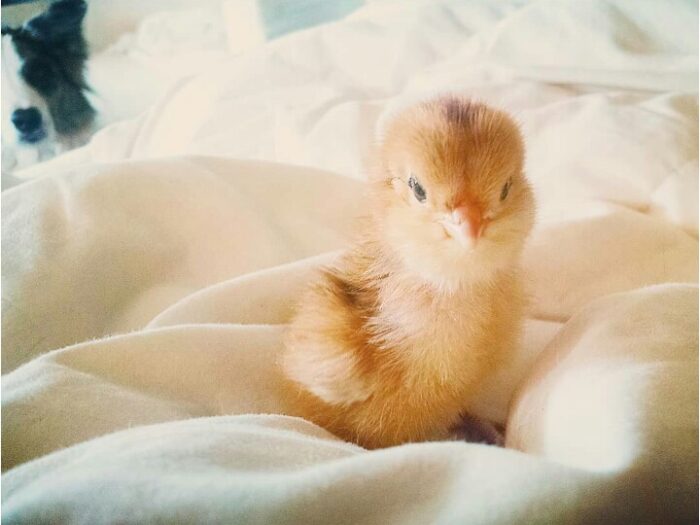 The following afternoon, once I was sure the chick was healthy and strong, I carried it out to the nursery and introduced the chick to its mama. When I placed it in the straw, the chick began cheeping desperately. The hen ran to it, gently herded it to the far corner, and nestled down on top of it as her other two chicks scurried beneath her body.
Doing the right thing is so hard sometimes! But they're a happy chicken family now. And who knows, maybe another egg will hatch – the rest are still in my yogurt maker.
☆ April 27, 2021
It's been a minute. Or rather, six months….. which just seems unreal. Three events disengage us from the human construct of time: birth, death, and falling in love. When we're in the midst of those three things, time gets weird.
I didn't realize the winter had passed until I heard the calls of the sandhill cranes the first week of March. And instead of thrilling me as they always have, they filled me with dread. Since Charlie came into my life, I have always celebrated our birthdays together. When I realized April was on the horizon, I got nervous about how I would feel on our birthday this year, this being the first one without him here. But Charlie orchestrated a wonderful adventure for me.
In March, I got an email from a powerhouse in the art world inviting me to place a piece in a group show she was curating in Jackson Hole. She needed all the art by April 12 (my birthday) to start hanging the show. So instead of dealing with shipping my work, I decided to drive the giant framed photo of Charlie to Jackson myself and make a mini vacation out of it.
When I told the curator my plan, she offered me her gorgeous house in downtown Jackson to stay in, since she and her husband had moved to a ranch outside of town. What a gift. I truly believe that Charlie conspired with the curator to deliver me to Jackson so I could spend our birthday surrounded by art and possibility instead of moping around at home. It was made even more special by knowing that Charlie's legacy lives on, and that his magic will continue to reach new people through this show.
I hadn't been to Jackson since I rode through on my Vespa, and it had been so cold and overcast that August day fifteen years ago that I never even got to see the Tetons in their full glory, as they were shrouded in fog. In person, they really do take your breath away.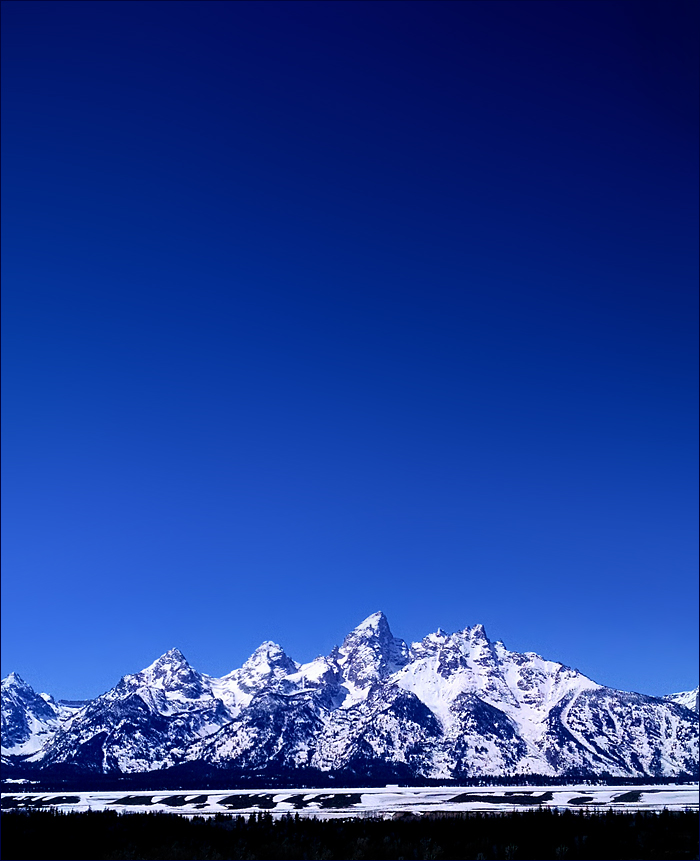 The house I stayed in was a work of art in and of itself, filled with art and art books, and the way the light danced through the space made me wish I'd brought my camera – this trip was the first time I've wanted to take pictures since Charlie died. But I still had fun taking pics with my phone.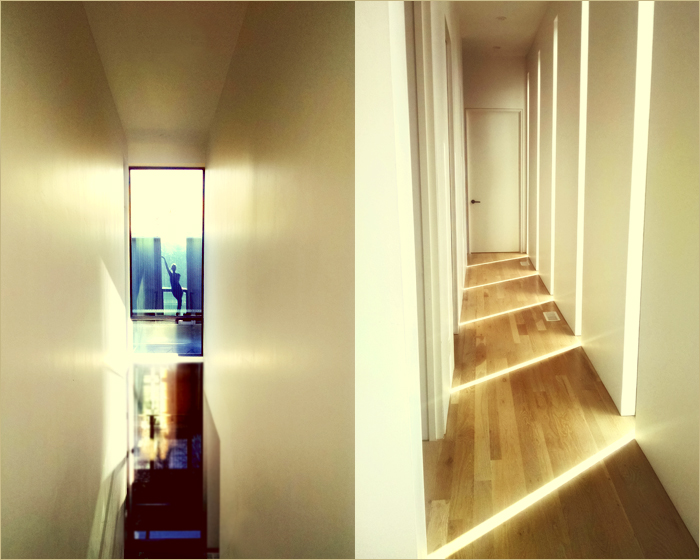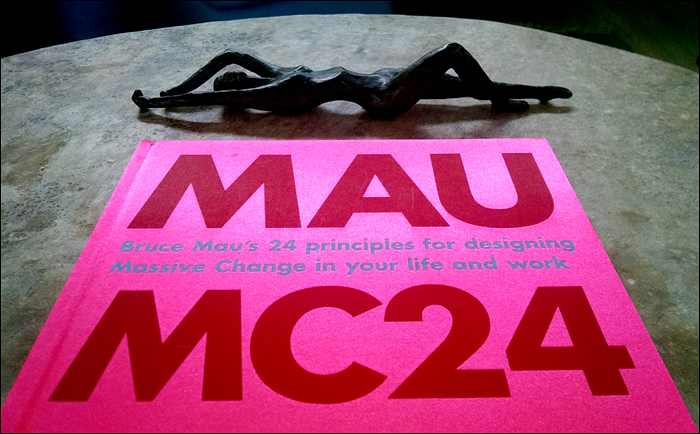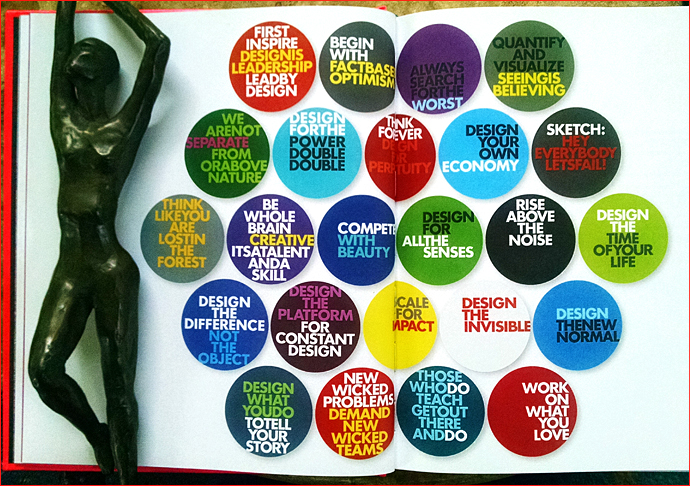 If you find yourself in Jackson Hole between now and June 14, swing by The Center for the Arts to see the show! It's a group of seriously amazing artists with so many spectacular pieces. You can download the catalogue, which contains all the art, here.
I still have rough days. I'm not going to pretend that there hasn't been a lot of pain since Charlie left Planet Earth. But there's also been so much magic. Every time I call out to Charlie, he answers….. and I know he's still my co-pilot from across the veil.
☆ February 2, 2021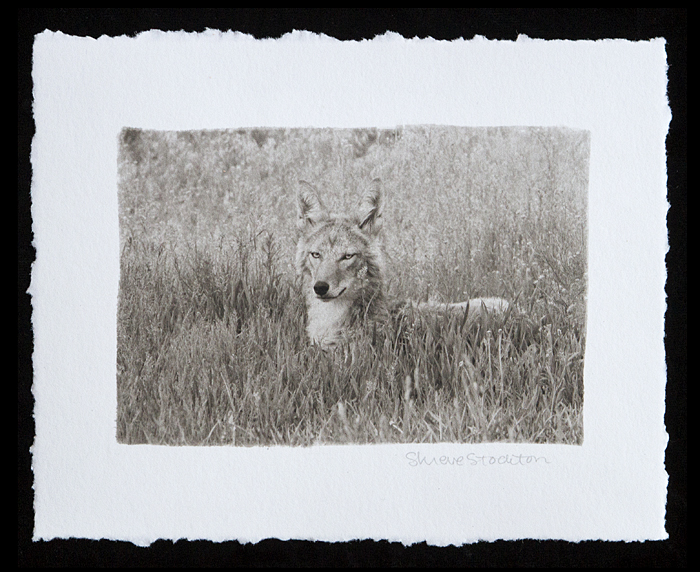 In the fall of 2017, after I finished the coffee table book celebrating Charlie's tenth birthday and had sent it off to the printer, I was in that weird state of being absolutely buzzed from completing the project and also exhausted from the work. I couldn't sit still and I couldn't focus on normal stuff. The book had turned out better than I'd ever imagined and sales had too, so I gave myself a gift I'd wanted for years. I drove to New Mexico for a week-long one-on-one apprenticeship with David Michael Kennedy, one of the living masters of Platinum/Palladium printing.
Platinum/Palladium printing is one of the oldest photographic printing techniques. A light-sensitive solution of platinum and/or palladium is hand-painted onto watercolor paper, and a contact print is made under ultraviolet light – traditionally, the sun.
I also learned how to make high-quality negatives from my digital files, which allows me to create Platinum/Palladium prints from pictures of Charlie that I've taken with my digital camera.
Platinum/Palladium prints are gorgeous, truly luminous, with a tonal range that surpasses any other form of photographic print. (Frustratingly, it's impossible to see the incredible print quality through a computer screen.)
The noble metals bond with the paper itself, so Platinum/Palladium prints are estimated to last thousands of years without any deterioration in the quality of the print. The Platinum/Palladium process is a spectacular blend of art, science, and magic.
It's also quite rare these days. Platinum and palladium are expensive materials to work with, and each print is made, from start to finish, by hand. In 2018 I set up a darkroom to start printing at home, but then I decided to write another book and my fine art was put on hold. Till now.
I'm debuting this work with one of my all-time favorite pictures of Charlie, in platinum and palladium (50/50). I'm offering it for auction with 100% of the proceeds going to mutual aid. The funds will be donated to this reparations campaign: Homes for Black Women.
My friend Allison of Sunny Rising has coordinated this fundraiser with a great group of artists – there is beautiful work on offer, and you can find links to it all on her most recent post.
Charlie in Platinum & Palladium on Italian rag watercolor paper / image area measures 4″ x 5.5″ / archivally mounted on rice paper under glass / handmade barn wood frame measures 10″ x 12″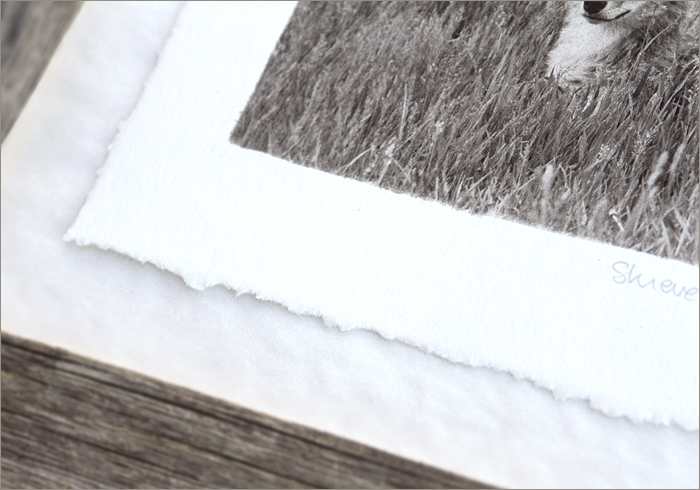 Please leave your bids in the comment section. The auction is also running on my instagram page – I'll be cross-posting the highest bids from both places periodically so everyone knows what's up (instagram seems to prohibit people without accounts from seeing anyone's pages anymore, boo). Check back here to see if you've been outbid! The auction will close February 9th at 9PM MST.
I'm slowly resurfacing and will write more soon…. in the meantime, thank you for all the love messages – let's share that love with this reparations campaign!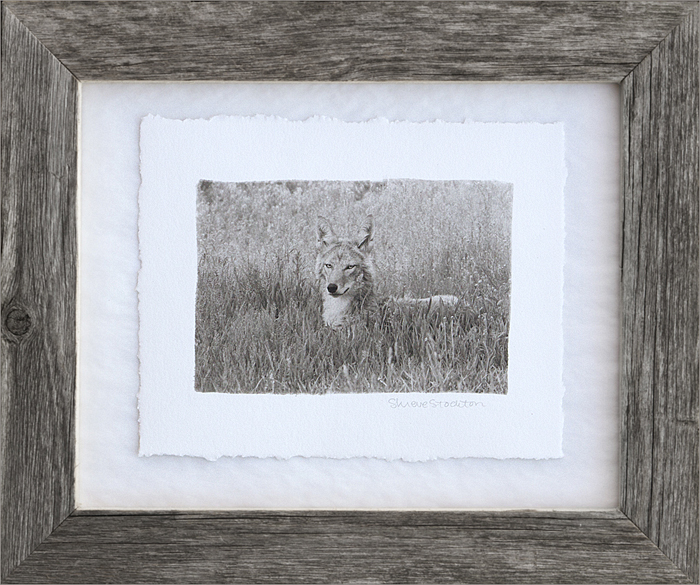 ☆ December 1, 2020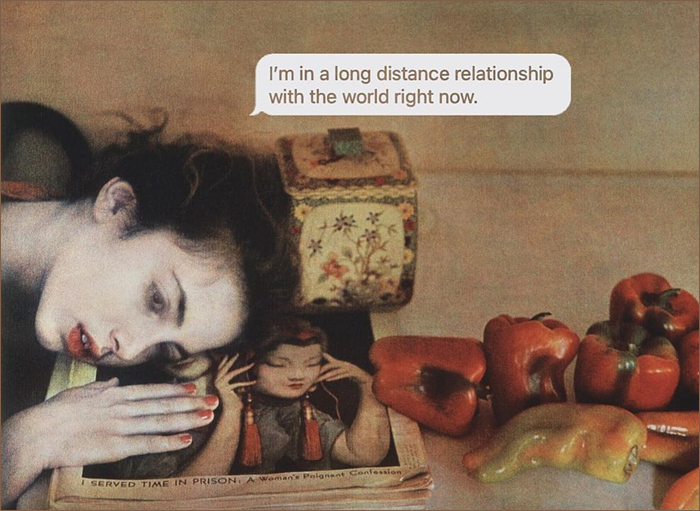 It's been intense over here. Two weeks after Charlie died, Mike's dog Pita died. And two weeks later, my 18-year-old cat Rue died. Pita was a year older than Charlie. She had really slowed down this summer but we wondered if she had six months left, or a year? But after Charlie died, Pita cratered. She stopped eating and got very weak very quickly and died in her sleep.
Rue was a feral cat I met at the barn when I got Daisy. She moved into the cabin with her kittens in 2010 and she and Mushy (one of her kittens) have been with me ever since. I haven't written much about Rue in recent years, but she was an angel in kitty form. She was the sweetest. I loved her so much, and learned so much from her.
She had cancer, which I caught very early almost three years ago. Because of her age and the fact that she was extremely afraid of all humans other than me and Mike (and it took her years to warm up to Mike), I decided not to address her cancer. I really believed that a trip to the vet would give her a heart attack.
Her tumor grew but she didn't show any discomfort – her appetite and activity level stayed normal and she loved to cuddle. Then suddenly, a few days after Pita died, Rue began eating less and moving around less. For the past several years, she always slept right next to my head, but she started spending nights in her favorite chair in my bedroom.
I pulled her favorite chair right next to my bed so that I could check on her and pet her during the nights. One night, I woke up around 1am and found Rue purring right next to my head, like she always had. I knew she was going to die the next day. I spent the morning on a cushion on the floor beside her favorite chair, just hanging out with her while she rested. Around noon, Rue jumped off the chair and curled up against my chest and died in my arms.
We lost half our house Farmily in one month (I do not count Ivan; he is a demon who lives in this house and who I tolerate because Sage loves him). It's been rough. And still I choose love. This is something to be proud of.
——
My web magician has set up some really cool code for Charlie's blog. Starting on Thursday, the top blog post will feature a photo of Charlie from our vast archives, which will change every time you visit the blog. I didn't want the daily pictures to end, or for the blog to become static. With this new feature, there will always be a surprise from Charlie when you visit The Daily Coyote. I hope you enjoy it as much as I will.
——
Mike is picking up the first batch of Charlie Calendars today. All international orders and orders with more than one calendar will fly out tomorrow, and single calendar orders will follow later in the week. Everything ordered to date should be en route by Monday. You'll get a tracking number automatically via email when your order ships.
There will not be another shop update until next year. I know there's demand for prints and chew toys and more but I'm not taking on more than I can handle right now, and I just can't handle overseeing orders other than calendars at the moment.
——
It's the last chance to be part of the Food Bank Cooperation Donation for 2020! This awesome program will close for the year in mid-December and reopen in January.
I hope you all are able to revel in moments of peace and beauty every day. Trust that I am, too.
KEEP LOOKING »