☆ October 30, 2018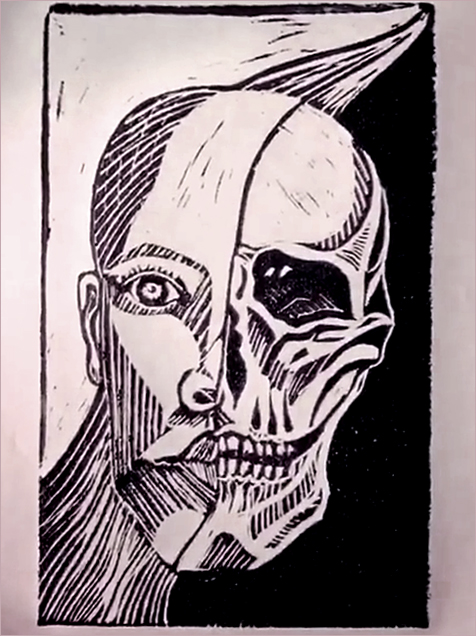 linocut by @plainandtalll
October has been the most delightful summer this year. Apart from a sudden but brief mid-month blizzard, the weather has been the kind of summer weather I fantasize about. Sunny and 75. I spent days sprawled on the deck reading The Monkey Wrench Gang, and I couldn't stop wondering, as I was reading, if this book would have ever gotten published today if it hadn't been published in the mid-1970s. First and foremost, it's appallingly racist. Annoyingly sexist, but appallingly racist (and the racism is so irrelevant, so superfluous, I kept coming out of the story to wonder like, can't they edit this shit out???). I'm pretty sure a book so blatantly racist against Native Americans would not get published by a major house today, yay for minor progresses.
The part I wonder about is the plot – a group of random vigilante misfits who use chainsaws, corn syrup, and homemade bombs to fight back against the rape of our planet by industry and government. A blurb on the back of the book from The National Observer (a major newspaper at the time) raves, "It'll make you want to go out and blow up a dam." Would a book that inspires the general public to go out and blow up dams and strip mines be published today? I kind of don't think so. Not when the powers that be deploy militarized police and violence and surveillance like that waged against the peaceful protectors at Standing Rock two years ago (not to mention the continued racism Native Americans face in fact if not in fiction) and the local and federal government support for and protection of corporate interests regardless of environmental impact.
I'm trying to think of current popular literature (fiction or memoir) that is openly critical of the anthropocene and I can't. Can you? If so, leave titles in the comments, please. As for The Monkey Wrench Gang, apart from the racism and the sexism and the constant drinking-and-driving (again, OMG!), the book is immensely readable – the writing style is like Tom Robbins and Wallace Stegner had a love child – and the thesis still holds true: how do we save this planet from ourselves? It's worth a few sunny afternoons or fireside evenings, should winter ever arrive…
.   .   .
My email inbox is a disaster I don't know how to fix. My queue goes back to June. Is this the new normal? I know I'm not alone in this, otherwise "inbox zero" wouldn't be an ubiquitous goal. How did we get here????
.   .   .
You know I love the Longform podcast. Here's another great episode, which happened to be recorded the day after Dr. Ford's testimony: Rebecca Traister. So much to love during this interview; this bit gave me hope and drive when I really needed a little hope and drive:
"Events like this past week remind you that you can act and you can care and you can put everything out there and you can still lose. Horribly. Degradingly. Humiliatingly. And it can make you feel crazy with fury that will feel futile. And that's hard, that's a hard thing to sign up for… What's gonna happen next continues to be up to us, and continues to depend on us being willing to do that hard thing and risk heartbreak and defeat and degradation and hopelessness… like, what else is there to do? The vision of the better future is dependent on those of us who can envision it, committing to continuing to work toward it, acknowledging that maybe we're not going see it in our lifetimes. But you know what? The people we most admire from the past, they didn't see it in their lifetimes either. But they still did the work that got us to here."
.   .   .
I was cleaning out my laptop and came across a pile of screenshots I've collected over the years. Some good ones:
When you see the entire world as your body, you'll see everything around you for what it actually is. [@un1fied]
I say bless you when people burp.
When you walk into a supermarket you have the illusion of many choices, but most products are just rearrangements of corn.
Patience is not simply the ability to wait, it's how we behave while we're waiting. [Joyce Meyer]
Archbishop Helder Camara famously said, "When I give food to the poor, they call me a saint. When I ask why the poor have no food, they call me a communist." [@theathomasin]
TOLINKA // Translation: flapping ears of a coyote; coyote's long ears flapping [Miwok language]
Make visible what, without you, might perhaps never have been seen. [Robert Bresson]
A cool form of rebellion: being as chill and generous and present as you can be with everyone you encounter. [@hologramrainbow]
( quotes are attributed wherever possible, you know how it is with screenshots )
.  .  .
The 2019 Charlie Calendar should be ready for you next week! Check back here for all the pics.
.   .   .
Daisy is doing GREAT! I'm happy every day because she's doing great.
Comments