☆ April 23, 2019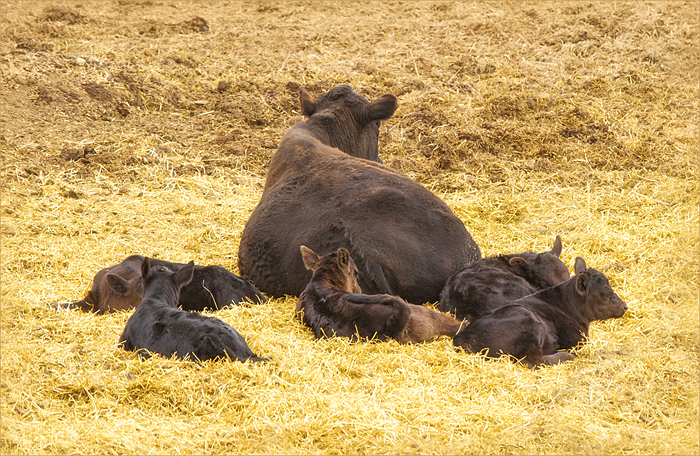 Can you even stand the cuteness? Babysitting is really common with bovines – one mother or Grandmother will hang out with up to a dozen calves while their mothers go off to graze or get manicures. This is Leila babysitting five calves at naptime – they found a very comfy spot on a pile of fresh straw. I really wanted to join them.
The following is a bit of a technical note, but maybe not completely boring? Starting tomorrow, on the anniversary of the day Charlie came into my life, my @dailycoyote Instagram account will become an extension of The Daily Coyote blog: photos of Charlie, posted daily, beginning at the beginning with his baby pics from April 2007.
I've been pondering this change for several weeks and reached conviction after the incredible flood of emails and messages I received around Charlie's birthday earlier this month. Your notes affected me deeply – thank you so much for sharing your thoughts and love. Charlie has impacted so many people in such magnificent ways, and I think bringing Charlie's photo archive to Instagram is the best way to keep sharing the wonder he inspires.
I'll still be updating Charlie's blog as I always have, and sending out new pictures to subscribers via email as I have always done and absolutely love doing – none of that is changing. But things have changed drastically, here on The Internet, since I started blogging in 2007. I've noticed so much more engagement on Instagram than on my blogs in recent years, and *I* engage more with others on Instagram, too, rather than going to dozens of blogs the way I used to in the '00s. This shift makes sense – on Instagram, everyone is in one place and it's so convenient. It's the Walmart of the internet. And since things have changed in this way, the @dailycoyote Instagram account will be a way for newbies, who might never find Charlie's blog otherwise, to learn about his magic. Today's 20-year-olds were 8 when Charlie was born!
Pictures of the rest of the Farmily will now be @farmily.love so if you're on Instagram, go follow that account for pictures of Daisy, Chloe, Sage, the horses, and the rest of the Farmily. With the book deadline and so much else going on, posting little snapshots over there may occur more regularly than big blog posts here. Even if you're not on Instagram, you can bookmark this page and this page to see everything I post.
Comments