☆ September 9, 2020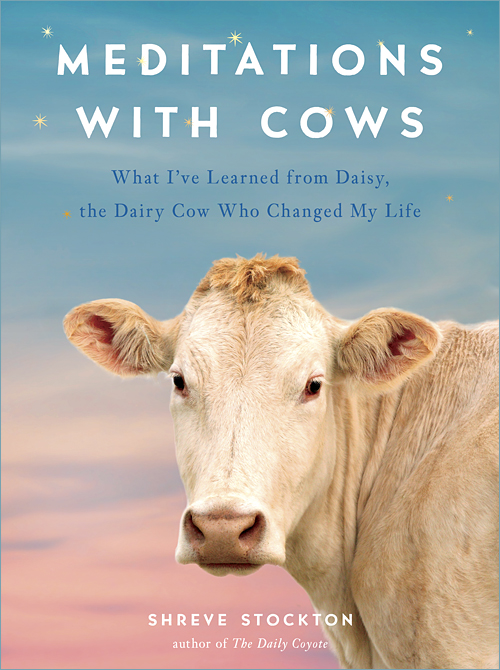 If this summer had not been this summer and if I had not been in frantic survival mode for the past six months, I would have done a long, slow rollout leading up to the debut of my new book, Meditations with Cows. But it was, and I didn't, and my book is going to be REAL in two short weeks! So buckle up and grab a drink, I have like 1500 words for you about the 70,000 words I spent almost two years writing!
The short version: I'm so thrilled to announce that Meditations with Cows will arrive in the world on September 29 and you can order it now! Signed copies are available through my local indie bookstore for orders placed in September ONLY. You can order signed copies HERE. You can also get the book through Amazon or Bookshop. All preorders placed in September will receive a free gift – more info on this below.
Meditations with Cows is the most personal thing I've ever written, the most political thing I've ever written, and the most well-written thing I've ever written. If you've been reading my blog for years, you'll recognize some stories, but most of it is completely new. I put every last drop of my heart and soul into this book. The team at Penguin Random House has done an incredible job with the layout – it's absolutely gorgeous, with full-color photographs placed throughout the text.
In May, I submitted a chapter of Meditations with Cows to the Wyoming Arts Council Writing Fellowship in Creative Nonfiction and…… I WON! I really, really wanted to win. Not for the money or the prestige, but for the external validation – to know that this book was of a high enough caliber to win.
When I got the final manuscript, I gave it to Mike to read for the first time. He had read sections here and there, but never the whole thing. He read it three times in a row, back to back. And he said that every time he read it, he noticed more and more – little details resonated and clicked on subsequent readings. It's true – there are puzzle pieces in the first few chapters that you won't know are there until you read the whole book. This book is FUN and it is DEEP. I'm so proud of it.
The last "real" book I wrote, The Daily Coyote, came out six weeks after the financial crash of 2008. Now, Meditations with Cows is coming out during a global pandemic and an even worse financial crisis. What are the odds? When I think about this, I feel very sad and sorry for myself. My heart has hurt for everyone who has had a book published this year. To spend so much time and energy working on One Big Thing (often alone, often mired in insecurity) and then, when it's finally ready to share, to be confronted with the reality that many, many people are too stressed to notice that your book even exists brings a strange kind of pain. The pain feels a little selfish, or at least self absorbed, because our current reality is bringing much bigger pain to so many. But it's also a valid pain – I didn't write this book for my own gratification, I wrote it because I believe everything this book contains is worthy of being read and shared.
What keeps me from sinking too deep into despair is a very strong conviction (hope? delusion?) that this book will be one that travels through word of mouth. I really believe that when you read this book, you'll find yourself compelled to talk about it to someone you know, or post a passage to social media, or call someone to read them a paragraph – that people will talk about this book because they won't be able to stop thinking about it. And that more people will learn about the book through this kind of sharing than through a feature in People Magazine (as was the case with The Daily Coyote).
I feel like I'm getting carried away in a sales pitch and I don't mean to be – I just think this book is worth your $25. And if, like so many, you don't have a spare $25 right now, you can call or email your local library to request that they acquire a copy of Meditations with Cows. Requests help librarians and they help the book.
If you would like to order a copy for yourself (or for your library or for your friends), I've got links for you!
Signed copies are available through Storyteller Books in Thermopolis, Wyoming and you can order online HERE. Signed books will ONLY be available for orders placed in the next three weeks! This is because Storyteller Books is the closest bookstore to my house, yet it is still 70 miles away and I can't zip down there to sign books here and there indefinitely. So, if you'd like a signed copy, place your order RIGHT NOW! Storyteller Books is offering a 10% discount for all orders placed online HERE. During checkout, be sure to click "Order Comments" and type "SIGNED BOOK" in the message field. You may also include your name, or the names of those to whom you are gifting books, and I will personalize each copy. No need to place separate orders for multiple books UNLESS you want books shipped to different addresses.
The book is also available through Bookshop, which is like Amazon in that you can find every book you can think of and have it shipped to your door, but unlike Amazon, all sales support indie bookstores. Click HERE to order through Bookshop.
You can also get the book through Amazon HERE.
The audiobook is also available through Amazon and Bookshop, and is read by the same narrator as The Daily Coyote.
Here's what early readers have to say about the book:
"How wonderful it is to come across the extraordinary magic of Shreve Stockton's writing. She writes from a position of authenticity and great love. Her intelligence and sensitivity suffuse everything from the way she describes the personalities of her cows to the much needed lessons on grazing and pastureland. With her work rooted in the land itself, Stockton presents a vivid picture of Wyoming to readers who may not otherwise know or understand what a working ranch is like. Meditations with Cows will enchant and thrill every reader, and arrives at a critical time when understanding each other is vital and crucial to our survival."
—Marie Mutsuki Mockett, author of American Harvest
"In Meditations with Cows, readers will find themselves in a beautiful world, led on an exploration that connects them back to the land, back to their food, and ultimately, back to themselves. With tales of ranching in the West, a wealth of information about our food system, and an invitation to participate, Meditations with Cows weaves together so many important threads. Stockton is a master wordsmith, the modern Aldo Leopold and Wendell Berry I'd been looking for."
—Kate Kavanaugh, founder of Western Daughters Butcher Shop and Ground Work Collective
"Meditations with Cows takes you on a provocative and thoughtful journey through the best and worst parts of the modern food system. The relentless forces of industry and profit are straining the biosphere and the relationship with our animal kin, winding up for explosive change in the way we eat. Stockton and Daisy's story is at once an intimate memoir and an epic journey through this unique moment in human history."
—Jacy Reese Anthis, author of The End of Animal Farming
"Meditations with Cows is enchanting and profound. Shreve Stockton is a clear-eyed, fearless woman with an enormous heart—her insights on rural life are spot-on, unsentimental, and unfailingly appreciative of the bounties attending the life she has built with rigor and ardor. Don't miss this book."
—Peter Coyote, actor and author of Sleeping Where I Fall
I am so excited for you to read this book, and to hear what your favorite chapters are.
Comments