☆ June 8, 2021
One of our hens got broody and made her nest on the edge of the haystack, three bales high. One day, I went into the barn and saw a scattering of eggs on the ground that the hen had kicked from her nest. Nestled under her body were two little chicks. I'm guessing the hen kicked out her eggs so her babies would have more room, to protect them from falling off the haystack. But it was still too dangerous for them there on the edge, still too easy for them to fall.
I put the chicks in a bucket, then grabbed the hen and carried her to our chick nursery – a dog house made out of logs and filled with straw, which the dogs have never used. It sits in my garden and is the perfect interim home for chicks before they graduate to the chicken house.
I put the hen in the nursery, trapped her in with the chicken wire door, then brought her chicks to her and set them up with water and food. Then I gathered up the eggs, which had landed gently on the loose hay blanketing the floor of the barn, and put them in my yogurt maker to see if any would hatch.
It was a long shot – I didn't know if the eggs had sat on the ground overnight or if my yogurt maker incubator would even be the correct temperature. But two days later, this happened!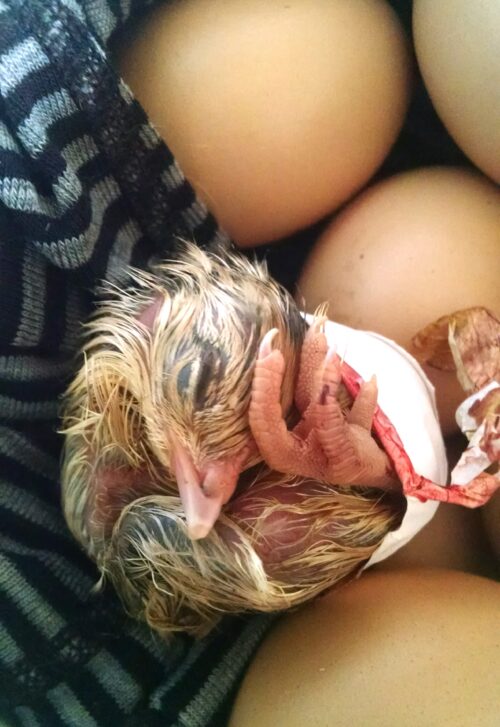 They say baby birds imprint on whoever is present when they hatch, but I imprinted on this chick. I tucked my sweater into my jeans and carried the chick around in the pocket of warmth between my sweater and skin like a chick-mama-kangaroo. When I was in bed, the chick slept on my chest under the covers.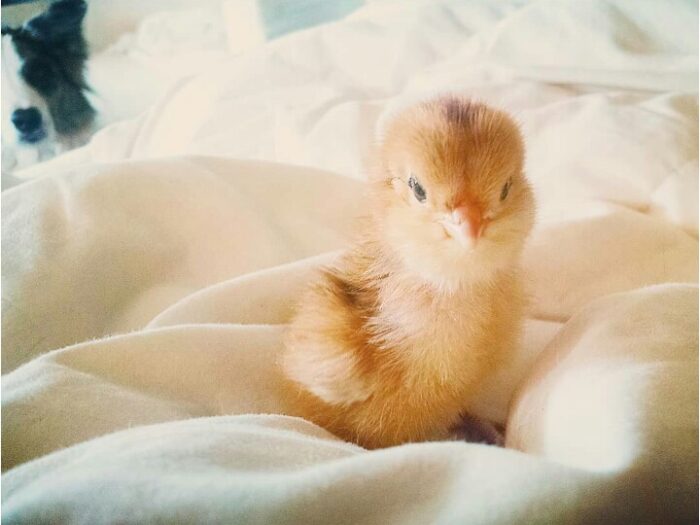 The following afternoon, once I was sure the chick was healthy and strong, I carried it out to the nursery and introduced the chick to its mama. When I placed it in the straw, the chick began cheeping desperately. The hen ran to it, gently herded it to the far corner, and nestled down on top of it as her other two chicks scurried beneath her body.
Doing the right thing is so hard sometimes! But they're a happy chicken family now. And who knows, maybe another egg will hatch – the rest are still in my yogurt maker.
Comments