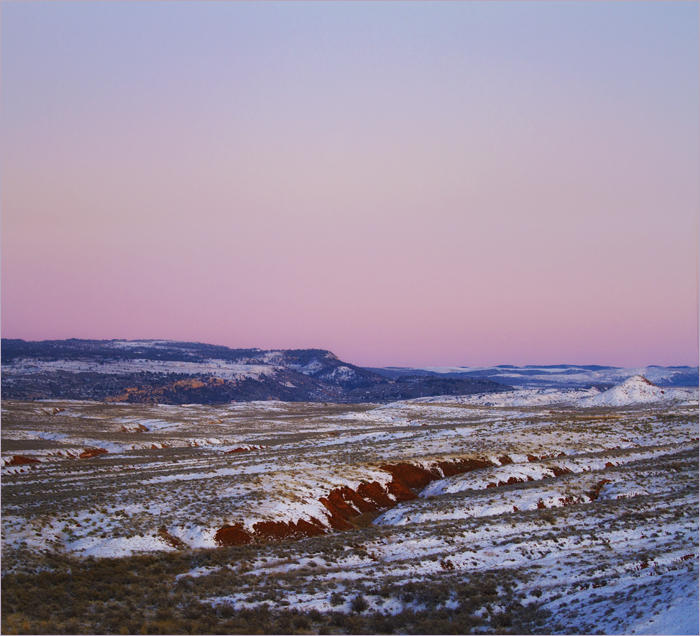 My delicious view.
.   .   .
I went outside this morning with the dogs, wearing very little. The half moon was aglow in the western sky and I remarked to myself how warm it was. Frost glittered across the deck but the air was warm – for winter. I was in no hurry to go back inside, but when the dogs were ready to go in, I went in, too, and went out the door on the other side of the house to see if I could see Daisy. The eastern sky was tangerine but it was still an hour from sunrise. The air was so cold I couldn't bear to stay outside! It was at least 15 degrees colder on the east side of the house than the west side. I went out the west door again. It was mild. I went out the east door again. It was freezing. Mike was convinced I was hallucinating but refused to come outside with me half naked to feel it for himself.
.   .   .
I found a box of original hardcover copies of The Daily Coyote: Ten Years in Photographs hidden in my office! There are just a few copies left and they are in the shop. Find 'em HERE.
Also in the shop: a massive elk antler chew toy restock. Every size and lots of them, waiting for your pups. Whenever we make these, Chloe and Sage and even the cats creep up to the box of freshly cut chew toys and try to sneak one out for themselves. Find 'em HERE, along with a few new rings…..
.   .   .
Charlie calendars were Mercury Retrograded – my printers printer printed every page crooked. A mechanical malfunction that is now repaired, but it set back production. I picked up a batch of perfectly printed calendars on Friday and sent out hundreds on Saturday, working in reverse order of orders (earliest orders shipped first). I'll be getting more calendars this week and should be caught up by Friday. They look so good! You can get yours HERE.
.   .   .
My brain is still in book mode. It's also quite tired. I've been getting some really incredible feedback on the book. Final final final edits due in January!
One of my favorite people I've never met posted this video and she totally nails the writing process:
View this post on Instagram
I highly recommend this podcast episode in which she is interviewed.
.   .   .
I received this clipping in the mail last week.
Long time Charlie fans will get the joke. Thanks Anna!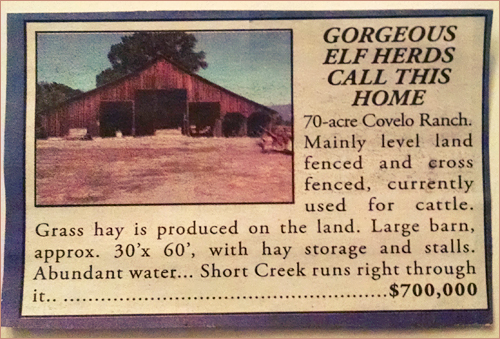 .   .   .
Totally amazing instagram account: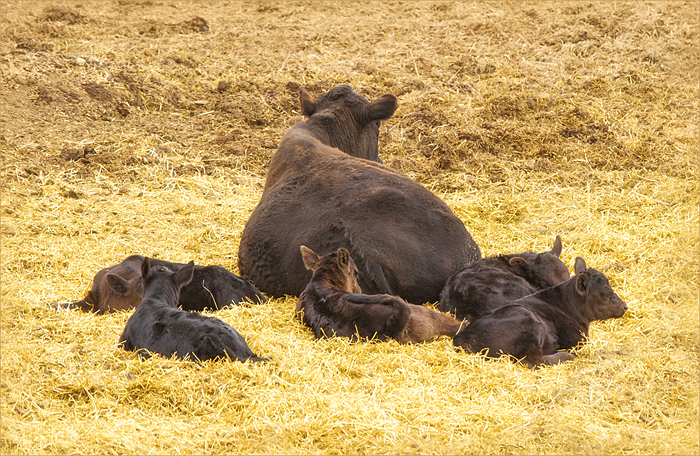 Can you even stand the cuteness? Babysitting is really common with bovines – one mother or Grandmother will hang out with up to a dozen calves while their mothers go off to graze or get manicures. This is Leila babysitting five calves at naptime – they found a very comfy spot on a pile of fresh straw. I really wanted to join them.
The following is a bit of a technical note, but maybe not completely boring? Starting tomorrow, on the anniversary of the day Charlie came into my life, my @dailycoyote Instagram account will become an extension of The Daily Coyote blog: photos of Charlie, posted daily, beginning at the beginning with his baby pics from April 2007.
I've been pondering this change for several weeks and reached conviction after the incredible flood of emails and messages I received around Charlie's birthday earlier this month. Your notes affected me deeply – thank you so much for sharing your thoughts and love. Charlie has impacted so many people in such magnificent ways, and I think bringing Charlie's photo archive to Instagram is the best way to keep sharing the wonder he inspires.
I'll still be updating Charlie's blog as I always have, and sending out new pictures to subscribers via email as I have always done and absolutely love doing – none of that is changing. But things have changed drastically, here on The Internet, since I started blogging in 2007. I've noticed so much more engagement on Instagram than on my blogs in recent years, and *I* engage more with others on Instagram, too, rather than going to dozens of blogs the way I used to in the '00s. This shift makes sense – on Instagram, everyone is in one place and it's so convenient. It's the Walmart of the internet. And since things have changed in this way, the @dailycoyote Instagram account will be a way for newbies, who might never find Charlie's blog otherwise, to learn about his magic. Today's 20-year-olds were 8 when Charlie was born!
Pictures of the rest of the Farmily will now be @farmily.love so if you're on Instagram, go follow that account for pictures of Daisy, Chloe, Sage, the horses, and the rest of the Farmily. With the book deadline and so much else going on, posting little snapshots over there may occur more regularly than big blog posts here. Even if you're not on Instagram, you can bookmark this page and this page to see everything I post.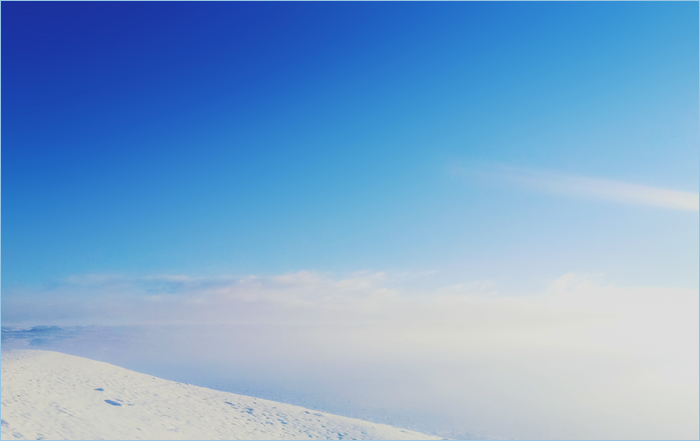 This year has been intense….. beginning with Daisy's miscarriage on January 2 and plowing full steam ahead from then on. I am officially burned out. A silver lining to my burnout: I am finally capable of recognizing and acknowledging it! On a hike earlier this month, I couldn't stop crying and I was like, "OK, Shreve, where is this coming from?" And the answer that came is that I feel like I've become the secretary of my life…… and not living it anymore.
So. I'm giving my secretarial self the month of January off. I'm so excited, I'm freakin' giddy. I'm excited for time and space and to work on some new projects I've not been able to germinate as a secretary. What this means:
The Shop will close January 1. In the meantime, all jewelry (with the exception of Fred's) is 18% off for the remainder of 2018 ~ use code 18for18 during checkout to get the discount.
During the month of January, my email auto-responder will explain how any issues with previous orders or Daily Coyote subscriptions will be addressed (and they will be addressed), so if you have issues, don't hesitate to email – next steps will appear. I will attend to all other email and re-open the shop in February.
Daily Coyote subscriptions will continue to go out as always, because the continuity is important to all of us, and it honestly doesn't feel like work, and my web guru has automated all the tedious parts. Charlie's blog will also be updated as usual throughout January.
I have a rabbit hole for you, before I go.
Last week, I came upon this Kickstarter: Pistachio Wars: Killing California for a Snack Food. I watched the trailer, my jaw hit my desk, I watched it again, I backed the Kickstarter, I showed it to Mike, I tweeted about it, and I swore off pistachios (which I love) FOREVER.
And then I wanted to learn more, and I found this podcast, which, warning to the tender-eared, has two obstreperous hosts and includes a fair amount of swearing, but, once you fast-forward eleven minutes to get past the ads, it is jam-packed with info, including (but not limited to) a billionaire threatening to sue bees for trespassing, that same billionaire nabbing a multi-million-dollar taxpayer-funded aquifer for his own private use for zero dollars, and, guess who! same guy! irrigating his commercial crops with fracking waste water (and those very crops are waiting for you in your local grocery store). If you are eating anything that comes from California, you might want to listen to this. The podcast notes link to lots of articles, HERE, (Ep. 356…Water Monsters) if you prefer to read.
Moral of the story: KNOW YOUR FARMER! Whenever and wherever possible.
See you in the Year of the Pig!
End! Of! Summer!!!!!!!!! I rejoice.
Summer is intense. And exhausting. And hot. There's a lot I loved about this summer – it was a whirlwind of travel and human connection and bonding with the Farmily at dawn and dusk and under the stars, and midday work breaks under the trees, but I'm glad it's in the rearview and that autumn is on the way. A week or two ago, when I noticed with wondrous relief that it was dark at 9pm, I wondered if the cottonwood trees feel this way, too, like, "I grew so much and contributed so much – beauty and shade and oxygen and habitat – and it's been glorious, but now I'm glad that I get to slow down, and soon, soon, I'll have a much-needed, very long nap." And they let their leaves fall.
.  .  .
Sage (who is now one year old) has been howling when Charlie howls. Charlie's howl is strong and elegant and Sage's is the opposite. So earnest yet so wobbly! As Mike says, "he hits every note but the right one."
.  .  .
3M and Fiona's calf are joined at the hip. They eat together, they run around together, they nap together, they play together. The cuteness is epic. They are both chubby and strong and healthy and happy. Fiona has done an amazing job.
.  .  .
Daisy, Miss Daisy, Queen Daisy, Our Daisy is doing GREAT! I had my other vet come see her and he said that while she's not going to live to nineteen, it's just as likely that she has two years than six months. I'm holding on to that. I wish she would gain more weight more quickly, but other than that, she's fantastic. She's getting around perfectly well – leading the rest of the cows around the property and up the steep driveway and staying well in the lead – and she's perky and bossy and as voracious as ever. She's getting tons of love and literal tons of treats. I often go out and find her – to brush her and cuddle with her and take her treats – but sometimes I'll open the front door and there she'll be, waiting, looming silently, staring me right in the eyes, like she had been willing me to open the door, and her telepathic message is, "I'm ready for some treats right now." Having her surprise me like that is always such a treat for me.
.  .  .
Longform has become one of my favorite podcasts. Here are three great episodes:
Rachel Kaadzi Ghansah
May Jeong
Elif Batuman
Last month, I listened to and loved The Opposite of Fate by Amy Tan. It's a book – memoir – surreal, true stories beautifully told.
I'm a huge fangirl of Michael Pollan (author of The Omnivore's Dilemma and numerous other books); he's on my list of "if you could invite five people to a dinner party, who would they be?" people. I recently found this talk he gave – titled Deep Agriculture – and it's just incredible. I listened to it and immediately listened to it a second time. It's from nine years ago and does not feel dated in the least. It's fascinating to listen to it in that context, yet everything he shares is just as as applicable today – arguably even more so. I highly recommend giving it your time. You can listen to it HERE.
Have any recommendations? I'm always on the lookout for more podcasts. Leave 'em in the comment section, please and thank you!
.  .  .
The Shop is back open and filled with treasure!!! Check it out before I decide to keep all the new jewelry for myself. I have many more beautiful adornments to photograph, they'll be popping into the shop randomly over the next couple of weeks.
.  .  .
I'm working on a new book proposal (!!!) so blogging will continue to be a bit sparse. It's easier for me to post photos and snippets on Instagram when I'm short on time, so you can check in on the Farmily on my Instagram page, even if you don't have an account. The button in the sidebar will take you there too….
When a black Angus cow has a white face, she's called a black baldy.
And sometimes, her calves are baldies, too!
An important book: DEFENDING BEEF, written by vegetarian and environmental lawyer Nicolette Hahn Niman. This book is not a rah rah eat more meat echo chamber. It is a dense but easy-to-read powerhouse of a book filled with science and history, biology and ecology, and a smattering of politics to top it off. The section on soil is pure poetry… I mean it!
If you're vegetarian or vegan and care about the environment, you should read this book. If you eat meat and care about the effects of your choices, you should read this book. Basically, anyone who eats food should read this book. Find it HERE or at your local library.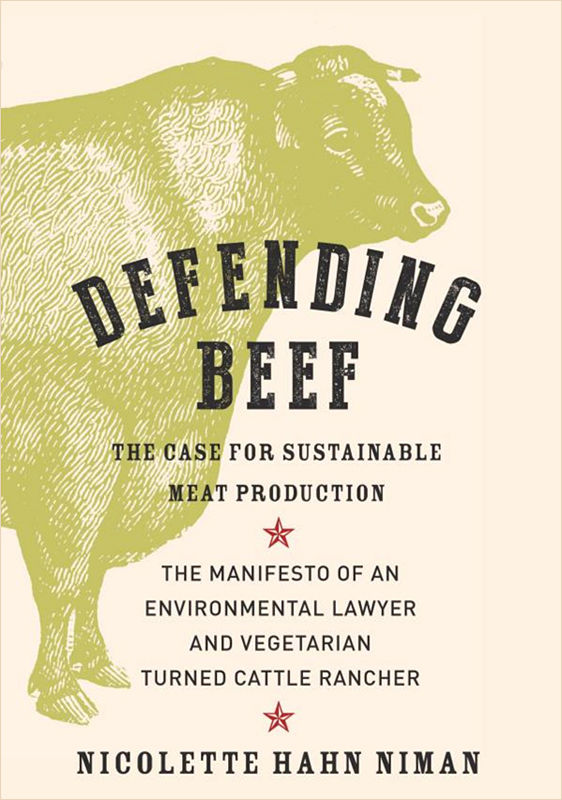 keep looking »