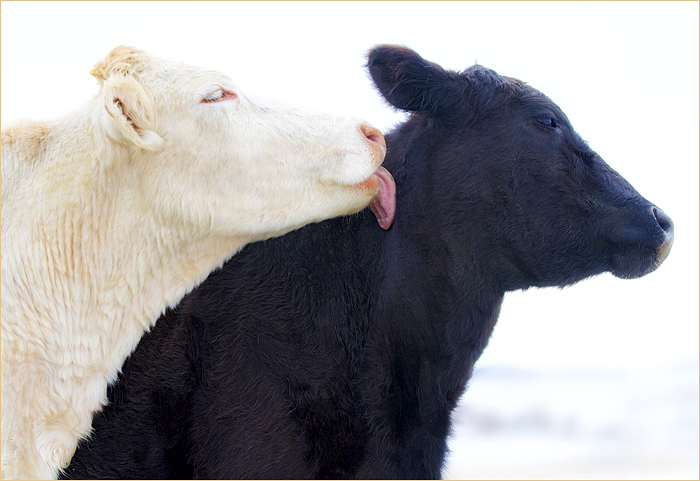 Look at all the love in this picture! Daisy lovin' up her daughter Leila, Leila lovin' the love.
I'm in the middle of writing a sprawling blog post about What I Did On My Secretarial Vacation but it's currently seven pages long (I have a lot of thoughts and things to share!) and not ready to post yet. So, in the meantime…..
Hi! I'm back! My January was incredible and I learned SO MUCH. I was not expecting to learn anything, but that's what happens when you change up your routine – you learn stuff! The Shop is back open with fresh chew toys, new jewelry, and the last of my gorgeous deer antler sheds, and I'll have that long and winding post for you as soon as I finish it.
End! Of! Summer!!!!!!!!! I rejoice.
Summer is intense. And exhausting. And hot. There's a lot I loved about this summer – it was a whirlwind of travel and human connection and bonding with the Farmily at dawn and dusk and under the stars, and midday work breaks under the trees, but I'm glad it's in the rearview and that autumn is on the way. A week or two ago, when I noticed with wondrous relief that it was dark at 9pm, I wondered if the cottonwood trees feel this way, too, like, "I grew so much and contributed so much – beauty and shade and oxygen and habitat – and it's been glorious, but now I'm glad that I get to slow down, and soon, soon, I'll have a much-needed, very long nap." And they let their leaves fall.
.  .  .
Sage (who is now one year old) has been howling when Charlie howls. Charlie's howl is strong and elegant and Sage's is the opposite. So earnest yet so wobbly! As Mike says, "he hits every note but the right one."
.  .  .
3M and Fiona's calf are joined at the hip. They eat together, they run around together, they nap together, they play together. The cuteness is epic. They are both chubby and strong and healthy and happy. Fiona has done an amazing job.
.  .  .
Daisy, Miss Daisy, Queen Daisy, Our Daisy is doing GREAT! I had my other vet come see her and he said that while she's not going to live to nineteen, it's just as likely that she has two years than six months. I'm holding on to that. I wish she would gain more weight more quickly, but other than that, she's fantastic. She's getting around perfectly well – leading the rest of the cows around the property and up the steep driveway and staying well in the lead – and she's perky and bossy and as voracious as ever. She's getting tons of love and literal tons of treats. I often go out and find her – to brush her and cuddle with her and take her treats – but sometimes I'll open the front door and there she'll be, waiting, looming silently, staring me right in the eyes, like she had been willing me to open the door, and her telepathic message is, "I'm ready for some treats right now." Having her surprise me like that is always such a treat for me.
.  .  .
Longform has become one of my favorite podcasts. Here are three great episodes:
Rachel Kaadzi Ghansah
May Jeong
Elif Batuman
Last month, I listened to and loved The Opposite of Fate by Amy Tan. It's a book – memoir – surreal, true stories beautifully told.
I'm a huge fangirl of Michael Pollan (author of The Omnivore's Dilemma and numerous other books); he's on my list of "if you could invite five people to a dinner party, who would they be?" people. I recently found this talk he gave – titled Deep Agriculture – and it's just incredible. I listened to it and immediately listened to it a second time. It's from nine years ago and does not feel dated in the least. It's fascinating to listen to it in that context, yet everything he shares is just as as applicable today – arguably even more so. I highly recommend giving it your time. You can listen to it HERE.
Have any recommendations? I'm always on the lookout for more podcasts. Leave 'em in the comment section, please and thank you!
.  .  .
The Shop is back open and filled with treasure!!! Check it out before I decide to keep all the new jewelry for myself. I have many more beautiful adornments to photograph, they'll be popping into the shop randomly over the next couple of weeks.
.  .  .
I'm working on a new book proposal (!!!) so blogging will continue to be a bit sparse. It's easier for me to post photos and snippets on Instagram when I'm short on time, so you can check in on the Farmily on my Instagram page, even if you don't have an account. The button in the sidebar will take you there too….
Miss Mara, taking after her big sister.
Thanks so much for your wonderful messages for Daisy ~ she's responding really well to her treatment, and seems as strong and content as ever and happy to soak up all the love!
Back in May, I weaned Mara and stopped milking Daisy because Daisy was looking rough and not gaining weight. I also decided I was going to retire Daisy – prevent her from having another pregnancy – because this cycle was so hard on her. Weaning went smoothly (and Mara is doing great), but by mid-June, Daisy was still dripping milk and the veins across her abdomen were distended and rigid. The veins freaked me out, but I assumed they would go down when she dried off (they are offshoots of what's called the "milk vein"), but by the beginning of July, she was still dripping milk (totally weird) and her veins were still abnormally prominent and so I made an appointment with the vet to make sure nothing was wrong. He was baffled by the milk dripping but said her distended veins were a marker of heart failure. He said we have six months together if we're lucky.
There's not a lot of data on bovine heart disease because it's often not caught until very late stages (because cows are often out on open range and/or not observed as obsessively as I observe Daisy). At that point, most people give the cow a diuretic and sell her ASAP. So there's little to no follow up in those cases, and relatively few case studies where the disease is caught early and tracked. Signs and symptoms, as the condition progresses, don't always present in every animal, so while there are things I can be on the look out for, there's not much to monitor or measure in any definitive way. It's all incredibly frustrating. My vet said this was the absolute earliest it could have been detected and we started treatment right away. I'm giving Daisy weekly shots that will increase to twice-weekly and then daily as things get worse.
Daisy's not showing any other signs of illness – she has her usual enormous appetite, she happily wanders the property as she wishes and does not seem winded or struggling. Her eyes are bright and she's super social and still very much Queen of Everything. My current theory about the dripping milk is that there's enough extra fluid in her tissues from the heart disease that she's been unable to re-absorb the milk in her udder as quickly as usual and it's dripping because of gravity. I'm taking her vitals two or three times a day so I can keep track of any changes, and listening to her lung sounds with my stethoscope. I desperately wanted to have an ultrasound done but it's just not possible – the waves can only travel so far to give a clear picture and the distance from skin to heart and lungs in a cow is many times greater than that distance in a person or smaller animal.
I also talked to my other vet, the philosopher vet who lives in a different town (and who hasn't seen Daisy yet) and told him how I've been tracking her vitals and how badly I wanted an ultrasound in order to see what stage we are actually at and asked him what else can I do and what I can measure and what are the percentages of likelihood of this and that and he basically said (in a more poetic and non-confrontational way) that perhaps this is a time to practice not being such a control freak because even with all the data in the world, I will never be able to control death. Which is excruciatingly true and excruciatingly hard for me.
I'm absolutely beside myself. I really can't even write about this, hence the dry, fact-y blog. I'm closing my online shop tomorrow, indefinitely (except for digital delivery items which will still be available). I'm still planning the 2019 Charlie calendar and I will have more of Fred's beautiful jewelry, but right now I don't want my time more divided than it has to be. I also had a pile of emails I was planning to respond to but I archived them all and sent off telepathic replies. I know you care about me and care about Daisy and understand these choices. I promise to keep you posted. In the meantime, please send Daisy love and good vibes.
Yesterday, we woke up to four inches of snow and a sky full of flakes, more inches piling up by the hour, and it was beautiful, of course, but incredibly disheartening because this has been a hard winter and I had allowed myself to believe that we were done with the snow and done with the mud (it had finally dried out!), but no. We're back in winter for a while. And while this winter has been so hard, one thing I've loved, deeply and unexpectedly, is winter milking.
Milking, for me, is like exercise is for many – one of those things that you never look forward to and only make yourself do because you have to, but then, when you're in it, when you're doing it, you're filled with so much joy and happiness it seems impossible not to look forward to doing it again the next day. Often, when I'm milking Daisy, I think to myself, "wouldn't it be wonderful to just quit everything and become a milkmaid?" These romantic daydreams last as long as the milking session and vanish when I'm done, replaced, in the space between milkings, by another thought: "omg, I am so sick of milking."
Milking is a chore, a chore that extends beyond the actual act of milking – there is the washing of the milk pails and cups and glass gallon jars every single day. There is the cow wrangling and the udder washing and the post-milking thank you brushing of the cow. There is the toting of the the brush and washcloths and warm soapy water and hay and halter and treats and milk pail and cup to the milking area and the lugging of it all back to the house when done (but for the hay and treats). In winter, there is the ritual of layering up – layer after layer after layer to ensure warmth while sitting in the snow for nearly an hour. And there is the task of making sure the cow is peaceful and happy or distracted and entertained, and, even if she is none of those things on any given day, that she at least stands still.
In the past, this last part has been the most challenging part of milking for me. Daisy loves her babies and is so devoted to them, in previous years she has treated me as a kind of milk thief. The best word to describe her attitude towards my milking was begrudging. Or rather, on the best days, she was begrudging, and on the worst days, she was mean. She'd try to kick me, or she'd tap dance for an hour, making the act of milking as difficult as possible for me, or she'd hold back her milk. Cows can do that! They can refuse to let down their milk and will save it for their calves, even though dairy cows produce far, far more milk than any single calf could ever need. When Daisy would pull this trick, I'd have to bring her baby alongside me, give it a teat, and then race the calf, milking as quickly as I could so the calf wouldn't drain the teat it had been given, then steal my teats, leaving me to trudge home with a measly cup or two of milk.
This year has been different. It's been so remarkably different, I wonder if, after her miscarriage and before we got Mara, Daisy accepted me as her baby and now I'm equally as entitled to milk as her bovine baby. She's treating me as if this is so. This year, she has not tap danced while I've milked, not once. She stands perfectly still and eats or meditates while I milk, just as she does when nursing a calf. Sometimes, she falls asleep. With Daisy so calm and peaceful, I sit at her feet and rest my head and shoulders against her warm belly while I milk. Rocked gently by her breath, there are times I almost fall asleep, too.
If Daisy wants to shift the position of her hind legs, particularly the leg I'm sitting next to, she no longer uses this as an excuse to whack me as she's done in years past. Instead, she will raise her leg, draw her hoof up and in towards the center of her body, slowly move it forward in a semicircular arc, and then set it down on the ground again. With this maneuver, she is actively avoiding disturbing me or my milking. She is making sure she does not kick me as she shifts her feet. She is being so considerate! And she hasn't held back her milk. It flows freely into my pail. I am blessed.
All of this means milking has been incredibly peaceful and meditative for me, even in the depths of winter. I don't really notice I'm sitting in the snow, not while I'm warmed by Daisy and watching the colors of the sky as the sun rises or sets, and listening to the birds return as the weeks pass, and looking up at Daisy's sweet face, her eyes half shut, her posture relaxed, chewing her cud. It's been a chance to bond more profoundly with Daisy each day. Sometimes I break from milking and lean against her and sip her warm milk from a cup, frothy and rich. When I was a teenager and worked an espresso stand and had maxed out on coffee, I'd make myself almond steamed milk – warm and frothy whole milk with a shot of almond syrup mixed in. This is what Daisy's milk tastes like, milked into a mug and enjoyed immediately.
And when I'm done milking, Daisy grooms me. She turns to me, and with a gentle toss of her head, begins covering me in long, deliberate swipes of her tongue. I only let her groom my clothes because cow tongues are rough and will take a layer of skin off with one lick. Sometimes, I misjudge the length of her tongue and she'll nick my cheek or wrist with her spiny taste buds and I'll flinch in pain, but it's worth it, to be so loved by Daisy.
keep looking »