One of our hens got broody and made her nest on the edge of the haystack, three bales high. One day, I went into the barn and saw a scattering of eggs on the ground that the hen had kicked from her nest. Nestled under her body were two little chicks. I'm guessing the hen kicked out her eggs so her babies would have more room, to protect them from falling off the haystack. But it was still too dangerous for them there on the edge, still too easy for them to fall.
I put the chicks in a bucket, then grabbed the hen and carried her to our chick nursery – a dog house made out of logs and filled with straw, which the dogs have never used. It sits in my garden and is the perfect interim home for chicks before they graduate to the chicken house.
I put the hen in the nursery, trapped her in with the chicken wire door, then brought her chicks to her and set them up with water and food. Then I gathered up the eggs, which had landed gently on the loose hay blanketing the floor of the barn, and put them in my yogurt maker to see if any would hatch.
It was a long shot – I didn't know if the eggs had sat on the ground overnight or if my yogurt maker incubator would even be the correct temperature. But two days later, this happened!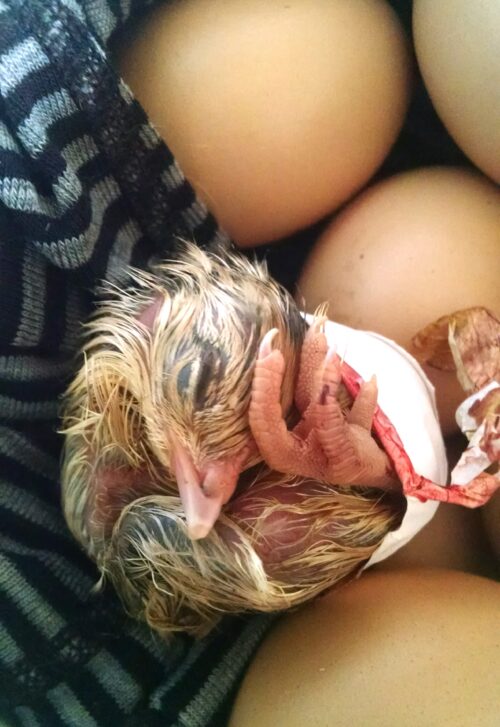 They say baby birds imprint on whoever is present when they hatch, but I imprinted on this chick. I tucked my sweater into my jeans and carried the chick around in the pocket of warmth between my sweater and skin like a chick-mama-kangaroo. When I was in bed, the chick slept on my chest under the covers.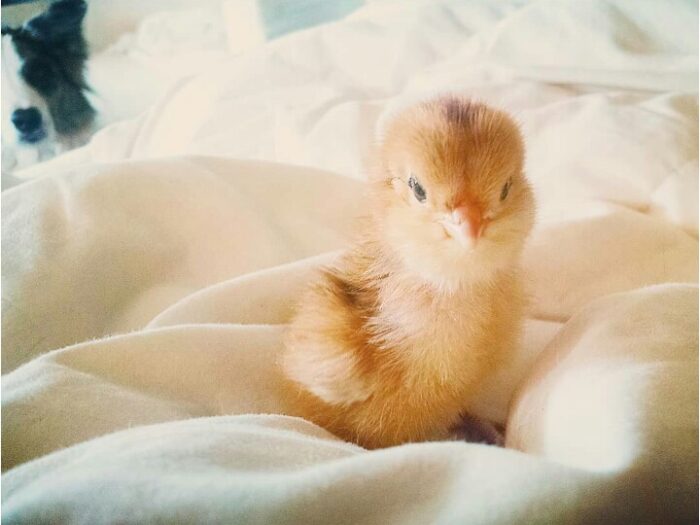 The following afternoon, once I was sure the chick was healthy and strong, I carried it out to the nursery and introduced the chick to its mama. When I placed it in the straw, the chick began cheeping desperately. The hen ran to it, gently herded it to the far corner, and nestled down on top of it as her other two chicks scurried beneath her body.
Doing the right thing is so hard sometimes! But they're a happy chicken family now. And who knows, maybe another egg will hatch – the rest are still in my yogurt maker.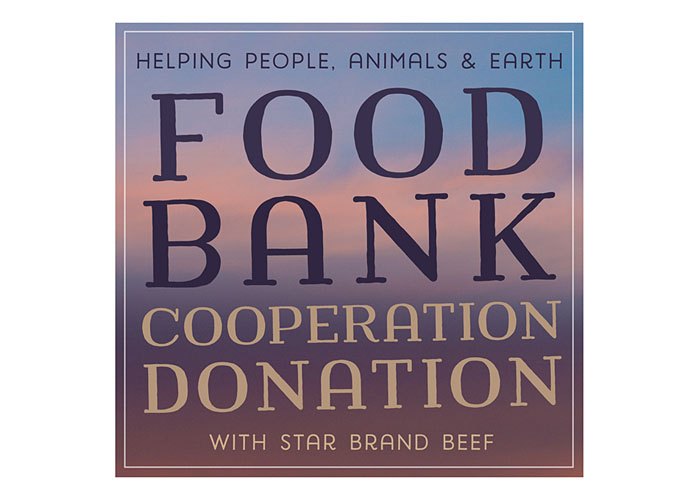 I'm thrilled and honored that the Food Bank Cooperation Donation has resonated with so many of you! Due to the logistics of delivering the beef and all the paperwork that will be done by the good people at The Food Bank of the Rockies, there's only about six weeks left to join in on this venture this year. (It will open again in January for the 2019 tax year.) If you feel called to join us in the Cooperation Donation, you may do so HERE!
And if you're like, 'what is she even talking about,' read on……
I donate beef every year to food banks, and believe that by joining together, we can give even more to those in need and keep even more animals from entering the feedlot system. I've teamed up with The Food Bank of the Rockies so that I donate the beef straight from my pasture and YOU get the tax deductions.
With your donation, you:
• help individuals and families receive nourishing, healthy food
• know your donation dollars go exclusively to food raised with organic, sustainable practices
• support ethical agriculture and the humane treatment of animals
• get a tax write-off for your kindness and generosity!
Supporting food banks was extremely important to my grandmother, the late, great Svensto, and I am honored to continue her legacy.
We all need healthy, nourishing food and I believe we all deserve it. And, for many, it's getting harder to procure. Healthy, sustainably-produced food is generally more expensive, and I have a really hard time with the fact that one's socioeconomic status determines the quality of food available.
I am disturbed by the widening chasm of income inequality. I consider this a heartbreaking crisis and I feel powerless in many ways. But I am in a position to donate the finest, healthiest, most delicious beef to food banks, and I do this with a rebel's spirit. Cooperation is a revolutionary act, I believe this with my soul.
How this works:
Donations will be collected and pooled to buy humanely-raised, organic, grass-finished beef from Star Brand Beef at wholesale (more beef for your buck). That beef will be donated to The Food Bank of The Rockies in YOUR names. I will provide The Food Bank of The Rockies with a spreadsheet of donations received (which will include your names and addresses), and The Food Bank of The Rockies will then send YOU your own, personalized 501(c)3 charitable donation paperwork in the amount of your donation for the 2018 tax year.
To contribute, click HERE. You'll see a drop-down menu of options – every amount has a big impact! Thank you so much for joining me in this venture in whatever way you feel called.
….. if I could stand opening Twitter anymore:
• I was traversing a new pasture on foot and found myself face to face with a baby fox. We stood perfectly still and silent and stared at each other for… five minutes? I have a poor concept of time as it is, which goes completely out the window when in the presence of baby foxes. Eventually, I glanced to the right to see if the mother was near and when I looked back a millisecond later, the baby fox had vanished.
• Two antelope does watched the sunrise with Charlie yesterday morning. Antelope have never been so close to the house!
• Sometimes, when I'm caring for a calf, which, sometimes, is not pretty or graceful or easy, the calf will be like, "You're scaring me you're hurting me PLEASE STOP!!!!" and I'm like, "Baby, I'm trying to SAVE YOUR LIFE!" Sometimes, my own life feels so painful and terrifying and I've just started wondering if hmmmmm, what if the powers that be, powers bigger and stronger than myself, are trying to help me out, it's just that from where I'm at, it feels like an attack. Part of me writes this off as wishful thinking. But when I let myself believe it, it feels so good to be taken care of… even if it hurts.
Yesterday afternoon, while driving home, I saw a 500-pound pig walking down the road. I pulled over, how could I not? I wanted to meet this giant pig. She was facing away from me as I approached her, rooting in the ditch. As I got closer, about ten feet away, she turned around. Her eyes were tiny squints – it looked like they were closed – and she opened her mouth and started snorting at me.
I don't have any pig experience – I don't know their body language or their noises – but this didn't seem like an aggressive series of snorts. It was more like the intense chatter of someone who hasn't had anyone to talk to in a while. She began walking towards me, and as she crossed the lane, I said a little a prayer: "I hope this is a friendly pig!" She was three times my size, and I did not want to get steamrolled by a pig.
She got closer, and I reached out my hand, and she snorted her way under my tentative fingers. I stroked her head. Her hair was sparse and so long and coarse! It was like petting a door mat, the kind designed to get mud off your boots. She wiggled closer and I rubbed her shoulders. Her back was as wide and flat as a coffee table. Her tail was a curlicue and she shook it – rather, wagged it like a dog – when I rubbed her back. I contemplated sitting on her and I contemplated pignapping her but did neither.
I stood in the muddy road and pet her for as long as she let me. I marveled at her strange pink body. I told her she was beautiful and she snorted "I know" and then wandered off, rooting for food.
1) Toss a blanket over a fluffy patch of untouched snow.
2) Walk to one edge of the blanket, so that you are facing the sun with the blanket behind you, careful not to touch the blanket.
3) While facing the sun, squat over the blanket, then fall back into it.
(If you do this in one smooth motion, the snow under the blanket will perfectly conform to your body. This is the goal. Practice as necessary.)
4) Close your eyes and let the sun warm your face.
5) Breathe a little more slowly.
6) Realize that, despite everything else everywhere else, this moment is perfect.
keep looking »