This morning's pond activity: two geese and two sandhill cranes. The cranes (which have moved in!! I am ecstatic!!), were not down with the geese. They seemed to be yelling, in unison, directly at the geese, urging them to get going and find another pond. The geese were like, relax, we're just taking a little break and floating here not bothering anything. So the cranes waded out into the water and started herding the geese out of the pond! The geese got agitated and honked some obscenities, then started paddling in earnest and flew off. The cranes relaxed and pranced back to the bank and were like, yes, this pond is ours. And I, from my perch up the hillside with my binoculars, was like, yes, it's all yours, just please stay! (Here's a recording I made of them the other morning)
I am so incredibly thrilled and touched by the response to the new book. I've received a zillion emails this week and am powering through them as fast as possible. And enjoying it! EMDR worked!
On the afternoon of my birthday, I was in the kitchen and saw a bald eagle out the window, fairly close to the house. I went out on the back deck and she flew over to me (I don't know if the eagle was female, but I hate writing "its" over and over). So close I could see her pupils, individual feathers, and the nails on her talons. She sailed past me, turned, glided right by me again, turned, drifted past me AGAIN… FIVE TIMES. Ten yards away at the most. She was so close for so long that I got a little fearful that my hair maybe looked like prey and that I was the target. The coolest thing was watching her move her head side to side, back and forth, back and forth as she flew. It reminded me of a fish. The whole thing was incredible.
The next afternoon, I was lying on my bed, feeling the effects of a week filled with adrenaline and coffee and very little sleep, and I saw a bald eagle out my window. Just happened to catch it fly by with the corner of my eye. So I went outside. It was very windy. The legendary Wyoming wind that, thankfully, we don't get too often in my county. The eagle flew in an arc across the driveway and flew towards me until she was about 20 feet away, diagonally above me so we were looking at each other. She had her head facing right into the wind, and she hovered there, motionless (but of course not motionless at all). I don't know how long. I just know that for that time, the wind didn't bother me.
Forever – is composed of Nows –
'Tis not a different time –
Except for Infiniteness –
And Latitude of Home –
From this – experienced Here –
Remove the Dates – to These –
Let Months dissolve in further Months –
And Years – exhale in Years –
Without Debate – or Pause –
Or Celebrated Days –
No different Our Years would be
From Anno Dominies –
~ Emily Dickinson
These are twins. They are identical except one has a black dot over her left eye and one has a black dot over her right eye. CUTENESS.
.  .  .
Do you think eagles ever get lonely?
.  .  .
I made yogurt from a gallon of cream. I'm going to do it again.
.  .  .
Little Bear, my bottle baby calf, now has a real cow mama! A beautiful cow had a stillborn calf yesterday, which is terribly sad and unfortunate, but we brought her home and, long story short, I sat in the barn playing cupid with cows and it's a love match!
.  .  .
I have so many calving stories to share and no time to type them…BECAUSE…..
I'm hard at work (and by that I mean wild-haired and obsessed)
on A NEW BOOK.
It involves Charlie.
Details soon.
(really soon!!)
I was going to write a blog post but I read instead.
I just started A Man Called Ove.
Any great recs for the next?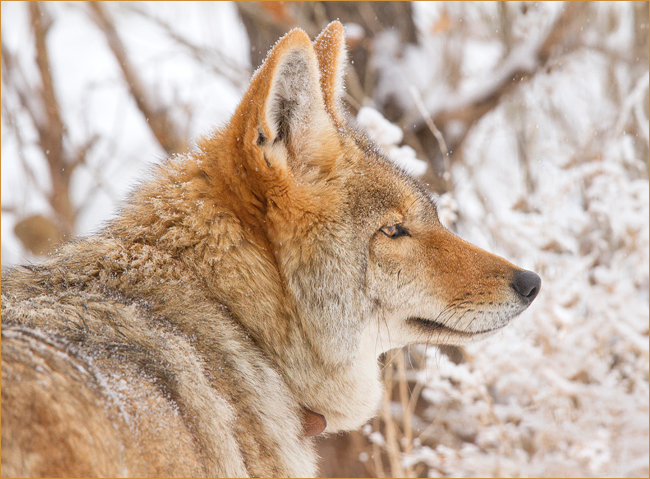 Are you on the Weekly Coyote list? It's F R E E!
Click
HERE
and
scroll
all the way
down
to
sign
up
.
The moon the other morning….
—–
All the snow melted last week. It went from knee-deep snow to ankle-deep mud in three days. I got legit depressed, like the way you feel when a visiting friend leaves and you know you won't see each other again for nearly a year. Not that we won't get more snow – we surely will – but deep winter is officially over, and I really, really love deep winter, loved it even more than usual this year. Dusk at 4pm and candles lit by 6pm; the quiet (unlike all other forms of quiet) of walking in the snow while it's snowing; chopping ice from the water tanks with the big ax; the glitter, everywhere, on sunny days…..
Spring sure knows how to flirt, though. When it comes to seasons, if you can't be with the one you love, love the one you're with. The last few days, I've woke to birds singing, and yesterday a friend and I lounged in the sunshine while brainstorming a new project. I cannot say these things are not delectable.
—–
Ivan update: he is the only cat I've known who runs TOWARD the vacuum and tries to play with it.
—–
From the department of long time coming, I have created a Charlie Fan Art page, an ever-expanding showcase of *your* pictures of Charlie. I put the first batch of art up this weekend. Check it out HERE! And send me your work!
—–
« go back
—
keep looking »