☆ June 5, 2018
I've been writing The Long & Winding & Beautiful and Tragic Story of 3M for a few reasons. One: to share, pure and simple. Two: to get this story on paper and out of my brain, because it's something I want to hold on to. Three: because I need your help, or advice, or ideas, or perspective. Here's the thing: all the characters in this beautiful true story are Angus cows and calves – that is to say, beef cows and calves. You care about them. I care about them. My hope, my wish, my dream, is that the general population, society at large, comes to care about the animals that produce and become our food (and our pets' food) the way that you and I care about the cows in The Story of 3M. Because all of the animals that produce and become our food (and our pets' food) are individuals with personalities as vast and endearing as the animals I write about. Every single one. If I hadn't bought Daisy when I did and if she had stayed at the dairy for seven months longer than she did, Frisco would have been veal. Our conventional food system, the way it is currently arranged, does not treat animals very well. The environment is often treated poorly, too. How do we change the status quo?
The answer is not as simple as "everyone should be vegan." That's not realistic, as many bodies do not thrive without meat, myself included, (and not for lack of trying). I've also come to the conclusion that, for me, eating organic, grass-finished beef is more ecologically responsible than getting the bulk of my protein from plants. Defending Beef (written by a vegetarian environmental lawyer) explains in depth the restorative effects of grazing animals and the detrimental effects of cultivated crops on climate change, sequestering carbon, and preserving topsoil, which is why I feel this book is an important read for everyone, not just meat eaters.
I love cows, I eat meat, I raise beef cattle, and I sell meat to other people who eat meat. I have been called a hypocrite murderer via email more times than I can count. I don't see myself or my work that way – I see it exactly the opposite and have written about that here. And as I stated in that post, none of this is easy. I'm not doing it for "easy." I'm doing it to change the world. And sometimes it feels so impossible, the necessary shifts insurmountable. And so I tell myself that even if I don't change the world, I can change the lives of some animals by keeping them out of the feedlot system, and of my customers by providing them with extraordinary, healthy meat that is aligned with their values, and that these small changes matter. Strangely, even when it feels impossible, I can see my dream of the future so clearly… the solutions, the big picture, the potential! I can see it all spread out in front of us, as clear and distant as the view of Earth from the window of an airplane.
I'm reading a book called Emergent Strategy by Adrienne Maree Brown and I'm in love with it – this book gives me hope and determination. Full book report coming when I finish it, but for now: emergent strategy is "strategy for building complex patterns and systems of change through relatively small interactions…." Wow. Yes. This blog post is a relatively small interaction. What might it do? What mycelienic network is it part of and how will that network expand? Star Brand Beef is a relatively small interaction, a microbusiness. I started it and continue it because it's an alternative to the status quo and if the status quo is going to change, alternatives must be available. And a network of people – my incredible, creative customers and supporters of this work – keep it alive, keep it evolving. I could not do it on my own.
I learned quickly that I need to completely clear my schedule during the weeks I take my steers to transition from living beings to nourishing food. It's hard. It's intense. I still cry and I know I always will. I thank the animals – I wrap them in layers upon layers of prayers of gratitude – not just from me but from every one of my customers who will be sustained by them for the coming year. And all year long, after every burger, every steak, I say "holy wow, Star Brand Beef is the best!" And I say thanks to the animals again.
I was talking to my mom the other night (I've turned her on to keto) and she mentioned how much she likes chicken. And when I asked her where she bought her chicken, she said 'the store' and when I asked her about the kind of chicken, the life and backstory of the chicken she bought and ate, she said she didn't know, that she never really thought about it. And I gave her my schpeal about the inhumane treatment commercially-farmed chickens endure before they become grocery store chicken, and how, on the flip side, she could have an incredible impact on the life of an indie chicken farmer if she went to the farmers market or read the local classifieds and found someone raising pastured chickens, someone who cared for and respected their chickens and raised them in a way that served the planet and honored the birds. "You will make a difference," I told her, "to that chicken farmer and to every single chicken you eat." And part of me was screaming inside because why did I have to spell this out for her? She sees what I go through with Star Brand Beef, has heard my passionate rants against factory farms and the inhumane treatment of animals and earth. And I wonder how often she'll consider this going forward. Sometimes, maybe? Will she think about it every time she eats chicken?
Pastured, humanely-raised meat (be it beef, pork, or fowl) is more expensive than factory farmed meat. This is because doing right by the animals and by Mother Earth takes more time and effort and care and money and space. But what is of greater value than healthy, nourishing food that was raised ethically, prioritizing the sustainability of agricultural practices, the well-being of the animals, the environmental impact? It SHOULD cost more. This idea that food should be the cheapest thing we spend our money on is the dark side of capitalism: the system has been rigged to train us to buy cheap food so we have money left over to spend on more clothes and knick knacks than we need, often made by cheap, exploitative labor, and then, perhaps, an expensive, brand new car on credit because that's our collective sign of success. Let's not! Let's buy perfectly decent used cars, get our wardrobes from thrift stores (all my cashmere has come from thrift stores), and spend more on the most important thing: healthy food, produced ethically and sustainably.
"I spend most of the money that comes my way on food, and most of my time thinking about, procuring, preparing, and consuming food…and this seems as it should be. This is my definition of right relationship to our food- that it should be an all consuming relationship that leaves little room for things like shopping addictions or toxic friends or any of the other trouble we find ourselves in with all the extra time that convenience foods afford us." (Erin Rivera Merriman, Active Culture Family)
"How do we create and proliferate a compelling vision of economies and ecologies that center humans and the natural world over the accumulation of material?" (Adrienne Maree Brown, Emergent Strategy).
"Refuse what you do not need; reduce what you do need; reuse what you consume; recycle what you cannot refuse, reduce, or reuse; and rot the rest." (Bea Johnson, Zero Waste Home).
Not everyone can afford to make these choices. Not everyone can afford food, period. Which leads me to my latest venture, another small act of emergent strategy: a collaboration between Star Brand Beef, The Food Bank of the Rockies, and, if you're interested, you.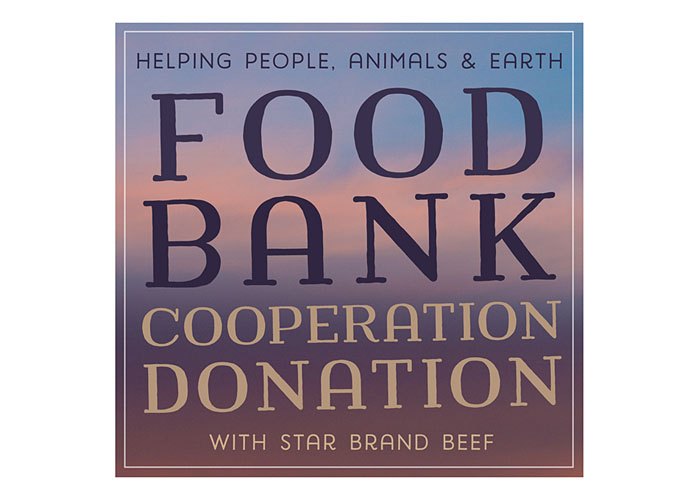 I donate beef every year, personally, but believe that together, we can donate even more to those in need and keep even more animals from entering the feedlot system, and I've teamed up with The Food Bank of the Rockies so that YOU get the tax deductions.
Supporting food banks was extremely important to my grandmother, the late, great Svensto, and I am honored to continue her legacy.
We all need healthy, nourishing food and I believe we all deserve it. And it's getting harder to procure, especially in certain areas like food deserts. Healthy, organic food is generally more expensive, and I have a really hard time with the fact that one's socioeconomic status determines the quality of food available. The healthiest (and most sustainably produced) food should not be exclusive to the economically-advantaged.
I am disturbed by the widening chasm of income inequality. I consider this a heartbreaking crisis and I feel powerless in many ways. But I am in a position to donate the finest, healthiest, most delicious beef to food banks, and I do this with a rebel's spirit. Cooperation is a revolutionary act, I believe this with my soul.
How this works: Donations will be collected and pooled to buy humanely-raised, organic, grass-finished beef from Star Brand Beef at wholesale (more beef for your buck). That beef is donated to The Food Bank of The Rockies in YOUR names. I will provide The Food Bank of The Rockies with a spreadsheet of donations received (which will include your names and addresses) and The Food Bank of The Rockies will then send YOU your own, personalized 501(c)3 charitable donation paperwork in the amount of your donation for the 2018 tax year.
To contribute, click HERE. You'll see a drop-down menu of options – every amount makes a difference. Thank you so much for joining me in this venture in whatever way you feel called.
Thank you for reading this far.
I look forward to reading your thoughts…….
And now stay tuned for our regularly scheduled programming: Part V of The Long and Winding and Beautiful and Tragic Story of 3M is here.
Comments