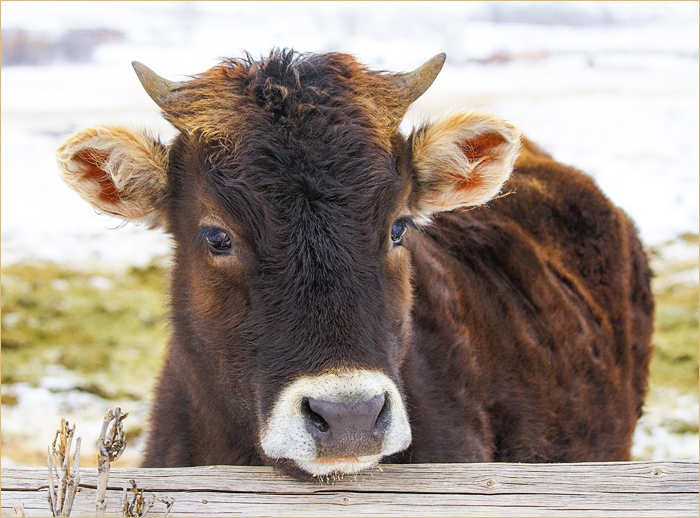 I have been trying to get good pictures of Mara for a year now.
When she sees me, she runs to me ~ and she is as fast as an antelope!
I shoot a few quick frames as she approaches on the trot, but they always end up blurry.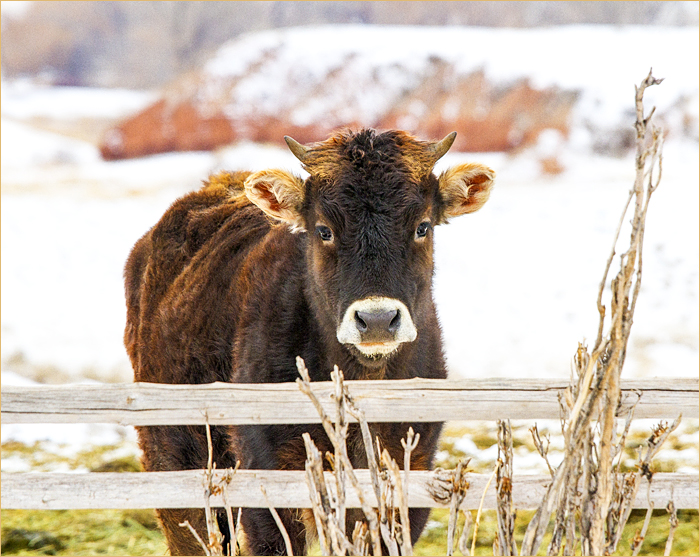 Yesterday, a fence happened to be between us, halting her advance.
And I finally got some pictures of her adorable face.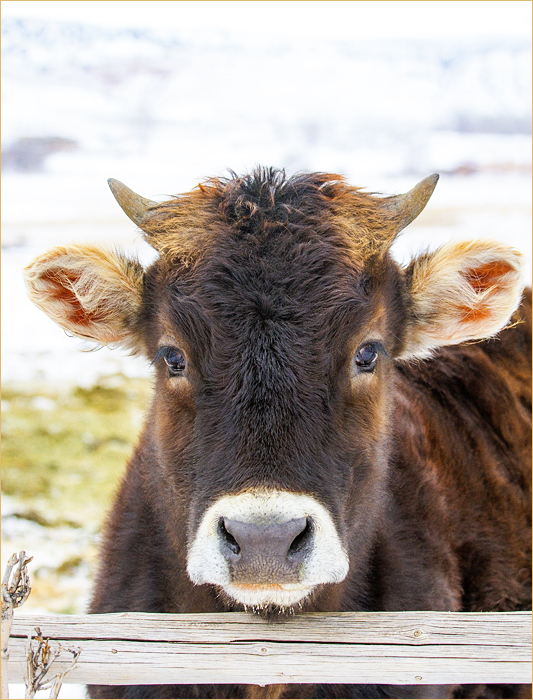 End! Of! Summer!!!!!!!!! I rejoice.
Summer is intense. And exhausting. And hot. There's a lot I loved about this summer – it was a whirlwind of travel and human connection and bonding with the Farmily at dawn and dusk and under the stars, and midday work breaks under the trees, but I'm glad it's in the rearview and that autumn is on the way. A week or two ago, when I noticed with wondrous relief that it was dark at 9pm, I wondered if the cottonwood trees feel this way, too, like, "I grew so much and contributed so much – beauty and shade and oxygen and habitat – and it's been glorious, but now I'm glad that I get to slow down, and soon, soon, I'll have a much-needed, very long nap." And they let their leaves fall.
.  .  .
Sage (who is now one year old) has been howling when Charlie howls. Charlie's howl is strong and elegant and Sage's is the opposite. So earnest yet so wobbly! As Mike says, "he hits every note but the right one."
.  .  .
3M and Fiona's calf are joined at the hip. They eat together, they run around together, they nap together, they play together. The cuteness is epic. They are both chubby and strong and healthy and happy. Fiona has done an amazing job.
.  .  .
Daisy, Miss Daisy, Queen Daisy, Our Daisy is doing GREAT! I had my other vet come see her and he said that while she's not going to live to nineteen, it's just as likely that she has two years than six months. I'm holding on to that. I wish she would gain more weight more quickly, but other than that, she's fantastic. She's getting around perfectly well – leading the rest of the cows around the property and up the steep driveway and staying well in the lead – and she's perky and bossy and as voracious as ever. She's getting tons of love and literal tons of treats. I often go out and find her – to brush her and cuddle with her and take her treats – but sometimes I'll open the front door and there she'll be, waiting, looming silently, staring me right in the eyes, like she had been willing me to open the door, and her telepathic message is, "I'm ready for some treats right now." Having her surprise me like that is always such a treat for me.
.  .  .
Longform has become one of my favorite podcasts. Here are three great episodes:
Rachel Kaadzi Ghansah
May Jeong
Elif Batuman
Last month, I listened to and loved The Opposite of Fate by Amy Tan. It's a book – memoir – surreal, true stories beautifully told.
I'm a huge fangirl of Michael Pollan (author of The Omnivore's Dilemma and numerous other books); he's on my list of "if you could invite five people to a dinner party, who would they be?" people. I recently found this talk he gave – titled Deep Agriculture – and it's just incredible. I listened to it and immediately listened to it a second time. It's from nine years ago and does not feel dated in the least. It's fascinating to listen to it in that context, yet everything he shares is just as as applicable today – arguably even more so. I highly recommend giving it your time. You can listen to it HERE.
Have any recommendations? I'm always on the lookout for more podcasts. Leave 'em in the comment section, please and thank you!
.  .  .
The Shop is back open and filled with treasure!!! Check it out before I decide to keep all the new jewelry for myself. I have many more beautiful adornments to photograph, they'll be popping into the shop randomly over the next couple of weeks.
.  .  .
I'm working on a new book proposal (!!!) so blogging will continue to be a bit sparse. It's easier for me to post photos and snippets on Instagram when I'm short on time, so you can check in on the Farmily on my Instagram page, even if you don't have an account. The button in the sidebar will take you there too….
Back in May, I weaned Mara and stopped milking Daisy because Daisy was looking rough and not gaining weight. I also decided I was going to retire Daisy – prevent her from having another pregnancy – because this cycle was so hard on her. Weaning went smoothly (and Mara is doing great), but by mid-June, Daisy was still dripping milk and the veins across her abdomen were distended and rigid. The veins freaked me out, but I assumed they would go down when she dried off (they are offshoots of what's called the "milk vein"), but by the beginning of July, she was still dripping milk (totally weird) and her veins were still abnormally prominent and so I made an appointment with the vet to make sure nothing was wrong. He was baffled by the milk dripping but said her distended veins were a marker of heart failure. He said we have six months together if we're lucky.
There's not a lot of data on bovine heart disease because it's often not caught until very late stages (because cows are often out on open range and/or not observed as obsessively as I observe Daisy). At that point, most people give the cow a diuretic and sell her ASAP. So there's little to no follow up in those cases, and relatively few case studies where the disease is caught early and tracked. Signs and symptoms, as the condition progresses, don't always present in every animal, so while there are things I can be on the look out for, there's not much to monitor or measure in any definitive way. It's all incredibly frustrating. My vet said this was the absolute earliest it could have been detected and we started treatment right away. I'm giving Daisy weekly shots that will increase to twice-weekly and then daily as things get worse.
Daisy's not showing any other signs of illness – she has her usual enormous appetite, she happily wanders the property as she wishes and does not seem winded or struggling. Her eyes are bright and she's super social and still very much Queen of Everything. My current theory about the dripping milk is that there's enough extra fluid in her tissues from the heart disease that she's been unable to re-absorb the milk in her udder as quickly as usual and it's dripping because of gravity. I'm taking her vitals two or three times a day so I can keep track of any changes, and listening to her lung sounds with my stethoscope. I desperately wanted to have an ultrasound done but it's just not possible – the waves can only travel so far to give a clear picture and the distance from skin to heart and lungs in a cow is many times greater than that distance in a person or smaller animal.
I also talked to my other vet, the philosopher vet who lives in a different town (and who hasn't seen Daisy yet) and told him how I've been tracking her vitals and how badly I wanted an ultrasound in order to see what stage we are actually at and asked him what else can I do and what I can measure and what are the percentages of likelihood of this and that and he basically said (in a more poetic and non-confrontational way) that perhaps this is a time to practice not being such a control freak because even with all the data in the world, I will never be able to control death. Which is excruciatingly true and excruciatingly hard for me.
I'm absolutely beside myself. I really can't even write about this, hence the dry, fact-y blog. I'm closing my online shop tomorrow, indefinitely (except for digital delivery items which will still be available). I'm still planning the 2019 Charlie calendar and I will have more of Fred's beautiful jewelry, but right now I don't want my time more divided than it has to be. I also had a pile of emails I was planning to respond to but I archived them all and sent off telepathic replies. I know you care about me and care about Daisy and understand these choices. I promise to keep you posted. In the meantime, please send Daisy love and good vibes.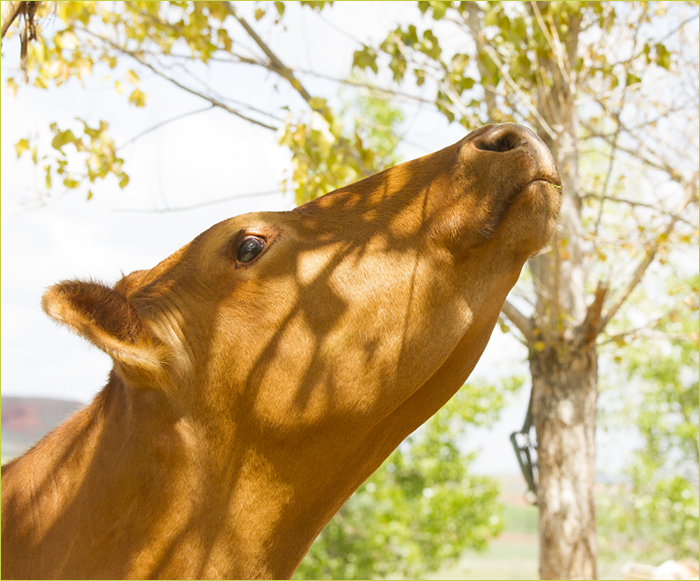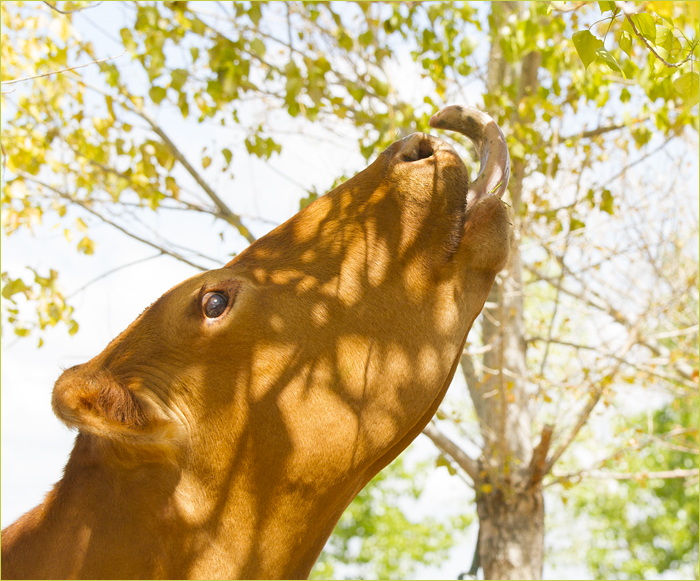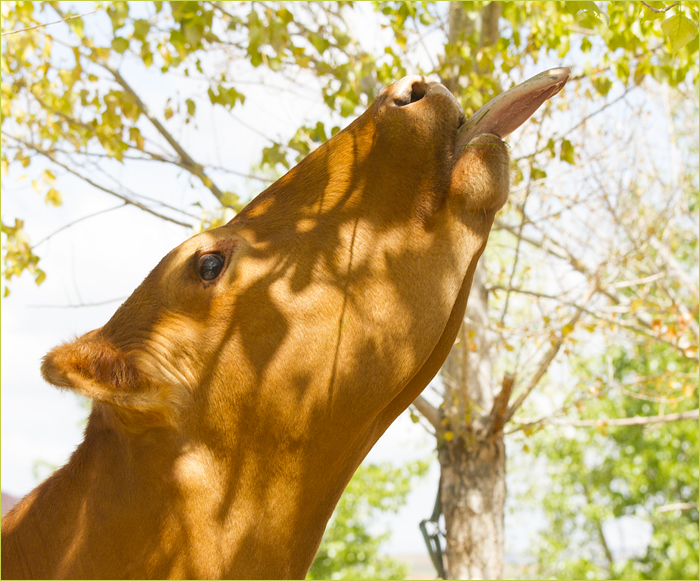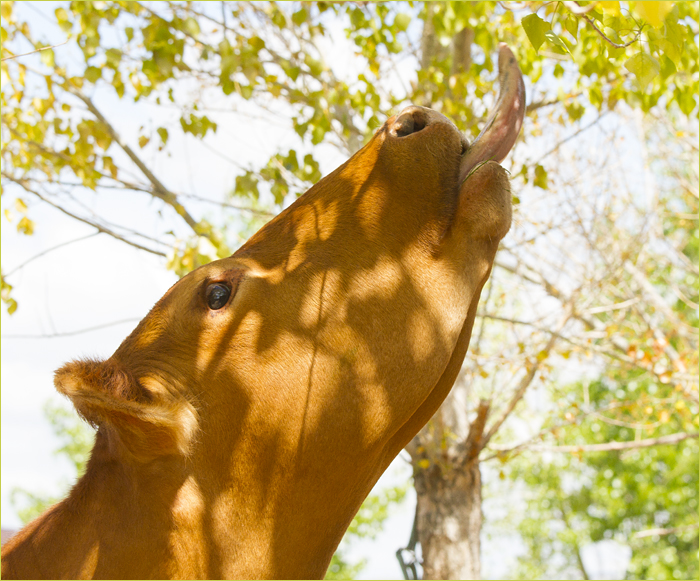 Previous Installments: Part I
 / Part II / Part III / Part IV / Intermission
 / Part V / Part VI
A week went by. A week of mornings and evenings that had lost their sparkle, that felt somber and empty. Star Baby no longer had adult cow companionship in the little corral. 3M, now orphaned, was often curled up by herself. Star Baby's baby figured out how to get out of the corral and left whenever she wanted, to explore and play with the other calves, returning only for meals. She was also getting big enough to empty Star Baby's udder by herself and there was less and less milk for 3M each passing day. I found where Star Baby's baby was escaping and purposefully locked her out of the corral, blocking her return until Star Baby's udder refilled and 3M had gotten first dibs. But when her calf showed up to eat and couldn't get in the corral, Star Baby stood right next to the panels so her calf could nurse through the railings. As patient and generous as Star Baby had been for the past month – going into the head catch twice a day on cue, standing calmly while 3M nursed, never once kicking (unless 3M tried to nurse when Star Baby was out of the head catch) – her loyalty was to her calf and it always would be. From the start, I knew Star Baby would be a temporary wet nurse, that eventually, her own calf would get big enough and greedy enough to take all the milk she produced. This arrangement was reaching its expiration date.
Meanwhile, Fiona still hadn't calved. She was the only cow left to calve. A few days after 6 died, I was brushing Fiona and felt her calf moving inside her. A protruding lump rose in a gentle yet startling wave under my hand and disappeared. It was thrilling. But the only other time I'd felt a calf move in utero was with Roxy, and so even though my control group was exactly one, I was suddenly paranoid that Fiona's calf would also be breech. Later that week, when Fiona was standing off by herself and I knew she would calve that day, I lured her into the front yard so I could watch her easily. Fiona went into labor a few hours later and when her water broke, I collected as much of her jelly-like amniotic fluid as I could and put it in the fridge. I had plans for it. I was overjoyed when her calf's hooves emerged because they showed the calf was not breech. Everything about the delivery went smoothly and Fiona delivered her baby right in my lap – the second time she's done this.
Fiona and her calf spent the rest of the day and that night together in the yard. I wanted to be sure they bonded completely. The next day, I put a tiny calf halter on 3M and threw open the gates of the little corral so Star Baby could rejoin the herd and her wandering calf. Before she sauntered off, Star Baby approached me and licked my elbow. It was the most affection she's ever shown a human. Then off she went, and I walked 3M to the yard to join Fiona and her newborn. Though 3M was a month older than Fiona's calf, they were exactly the same size because 3M had been so small when she was born. I got the amniotic fluid from the fridge and poured it all over 3M and rubbed it into her coat in hopes of tricking Fiona. Cows know their calves by sight and sound but a key identifier is scent, and if 3M smelled like Fiona, perhaps Fiona would adopt her right away! I stood at Fiona's flank and stroked the side of her udder. 3M galloped over and reached out with a tentative tongue. Fiona was not into it. She was not fooled by the amniotic goo bath I'd given 3M and she was not going to let 3M nurse, so I had to pull out the ol' Maia trick and blindfold her.
Mike and I stumbled onto this trick years ago out of sheer frustration with Maia (who is still a giant pain) and though we don't use it often, it's a brilliant, low-impact intervention. It's easy, it's temporary, it requires no equipment other than a jacket or flannel shirt, and it's not traumatizing to the cow, as evidenced by their willingness to be blindfolded over and over and the fact that they chew their cud while blindfolded. Chewing cud is kind of like yawning – animals simply won't do it if they're in acute stress.
I took off my coat and placed it over Fiona's face and tied the arms loosely under her chin. Her nose remained exposed, and I stood between her head and 3M's body so Fiona would smell mostly me while 3M went to town on Fiona's decadent udder, feasting till she was about to burst. As Daisy's daughter, Fiona makes a lot of milk. She has produced incrementally more milk with each passing year, which is a little weird, but perhaps has something to do with her being a dairy-angus cross. Last year, the volume of milk had been manageable for her calf, but barely. It had been almost too much for a single calf. This year, I knew she'd have enough milk for two calves.
But I wasn't sure if Fiona would ever fully adopt 3M the way Daisy has adopted second and third calves in years past. I had high hopes, especially since we were introducing 3M immediately after Fiona had calved. Still, I wanted 3M to learn how to get her own meals from Fiona without my help, in case Fiona never fully accepted her. Bovines have excellent memories and are brilliant at understanding patterns. I just had to show 3M the new routine a time or two for her to catch on – and not only catch on, but to start manipulating the situation in her favor.
I set up a playpen of sorts using two panels and the natural curve of the wooden fence. I put Fiona's calf in the playpen at night so he wouldn't nurse early in the morning before I got up. In the morning, I put the blindfold on Fiona and let her calf out of the playpen. He ran to Fiona, and as soon as he latched on, I coaxed 3M to Fiona's other side, and stood between her body and Fiona's head. Fiona sniffed her calf and sniffed me and that satisfied her, and she stood calmly as both calves nursed. I repeated this in the evening – putting Fiona's calf in the playpen for a few hours in the afternoon, and coordinating a mutual mealtime with 3M.
3M is scrappy and resourceful and strategic and determined and clever. She already knew that when I showed up, I was going to help her get a meal. Over the following days, as soon as I let Fiona's calf out of the playpen, both calves ran to Fiona and latched on – one on each side. 3M soon figured out that if she snuck onto a teat when Fiona's calf nursed in the middle of the day, she didn't need me around at all. If Fiona balked, 3M moved to the same side as Fiona's calf, with Fiona's calf positioned between herself and Fiona's head so Fiona couldn't really tell she was there.
One morning, I took Fiona's blindfold off before the calves had finished their breakfast. Fiona arced her head to one side and sniffed her calf, and arced her head to the other side and sniffed 3M, then straightened her head to the front and began chewing her cud – the universal cow sign that all is well and there's nothing to stress about. The next morning, I put the blindfold on, the calves ran to Fiona and latched on, and I removed the blindfold a mere thirty seconds later. Fiona looked left, looked right, looked front, and chewed her cud. After that, I stopped putting Fiona's calf in the playpen at all. And when I went outside, I'd often find all three together, both calves nursing, Fiona standing peacefully. One day, I went outside and found Fiona licking 3M, just as she does with her own calf, just like 6 used to do.
When I saw Fiona licking 3M, I knew they were a family. 3M and Fiona's calf are still exactly the same size, and they race around the yard together and buck and play. If you didn't know the whole story, you'd think Fiona had twins. But you know the whole story: the long and winding and beautiful and tragic and truly magical story of 3M.
« go back
—
keep looking »