☆ September 26, 2018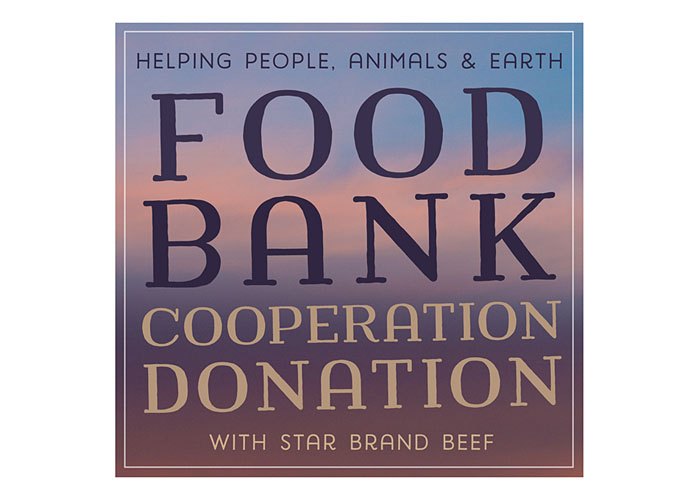 I'm thrilled and honored that the Food Bank Cooperation Donation has resonated with so many of you! Due to the logistics of delivering the beef and all the paperwork that will be done by the good people at The Food Bank of the Rockies, there's only about six weeks left to join in on this venture this year. (It will open again in January for the 2019 tax year.) If you feel called to join us in the Cooperation Donation, you may do so HERE!
And if you're like, 'what is she even talking about,' read on……
I donate beef every year to food banks, and believe that by joining together, we can give even more to those in need and keep even more animals from entering the feedlot system. I've teamed up with The Food Bank of the Rockies so that I donate the beef straight from my pasture and YOU get the tax deductions.
With your donation, you:
• help individuals and families receive nourishing, healthy food
• know your donation dollars go exclusively to food raised with organic, sustainable practices
• support ethical agriculture and the humane treatment of animals
• get a tax write-off for your kindness and generosity!
Supporting food banks was extremely important to my grandmother, the late, great Svensto, and I am honored to continue her legacy.
We all need healthy, nourishing food and I believe we all deserve it. And, for many, it's getting harder to procure. Healthy, sustainably-produced food is generally more expensive, and I have a really hard time with the fact that one's socioeconomic status determines the quality of food available.
I am disturbed by the widening chasm of income inequality. I consider this a heartbreaking crisis and I feel powerless in many ways. But I am in a position to donate the finest, healthiest, most delicious beef to food banks, and I do this with a rebel's spirit. Cooperation is a revolutionary act, I believe this with my soul.
How this works:
Donations will be collected and pooled to buy humanely-raised, organic, grass-finished beef from Star Brand Beef at wholesale (more beef for your buck). That beef will be donated to The Food Bank of The Rockies in YOUR names. I will provide The Food Bank of The Rockies with a spreadsheet of donations received (which will include your names and addresses), and The Food Bank of The Rockies will then send YOU your own, personalized 501(c)3 charitable donation paperwork in the amount of your donation for the 2018 tax year.
To contribute, click HERE. You'll see a drop-down menu of options – every amount has a big impact! Thank you so much for joining me in this venture in whatever way you feel called.
Comments