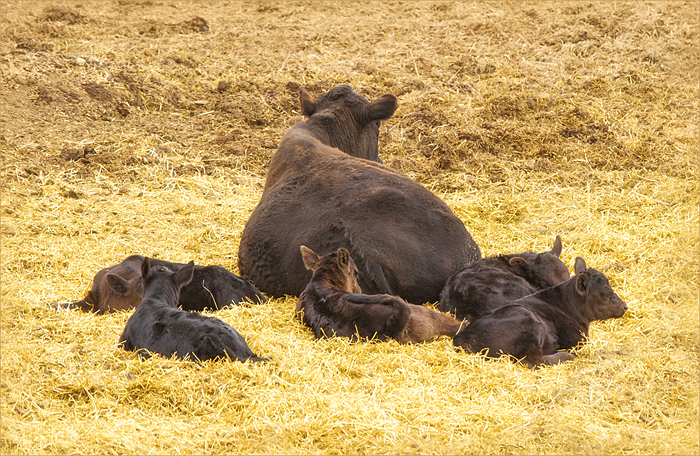 Can you even stand the cuteness? Babysitting is really common with bovines – one mother or Grandmother will hang out with up to a dozen calves while their mothers go off to graze or get manicures. This is Leila babysitting five calves at naptime – they found a very comfy spot on a pile of fresh straw. I really wanted to join them.
The following is a bit of a technical note, but maybe not completely boring? Starting tomorrow, on the anniversary of the day Charlie came into my life, my @dailycoyote Instagram account will become an extension of The Daily Coyote blog: photos of Charlie, posted daily, beginning at the beginning with his baby pics from April 2007.
I've been pondering this change for several weeks and reached conviction after the incredible flood of emails and messages I received around Charlie's birthday earlier this month. Your notes affected me deeply – thank you so much for sharing your thoughts and love. Charlie has impacted so many people in such magnificent ways, and I think bringing Charlie's photo archive to Instagram is the best way to keep sharing the wonder he inspires.
I'll still be updating Charlie's blog as I always have, and sending out new pictures to subscribers via email as I have always done and absolutely love doing – none of that is changing. But things have changed drastically, here on The Internet, since I started blogging in 2007. I've noticed so much more engagement on Instagram than on my blogs in recent years, and *I* engage more with others on Instagram, too, rather than going to dozens of blogs the way I used to in the '00s. This shift makes sense – on Instagram, everyone is in one place and it's so convenient. It's the Walmart of the internet. And since things have changed in this way, the @dailycoyote Instagram account will be a way for newbies, who might never find Charlie's blog otherwise, to learn about his magic. Today's 20-year-olds were 8 when Charlie was born!
Pictures of the rest of the Farmily will now be @farmily.love so if you're on Instagram, go follow that account for pictures of Daisy, Chloe, Sage, the horses, and the rest of the Farmily. With the book deadline and so much else going on, posting little snapshots over there may occur more regularly than big blog posts here. Even if you're not on Instagram, you can bookmark this page and this page to see everything I post.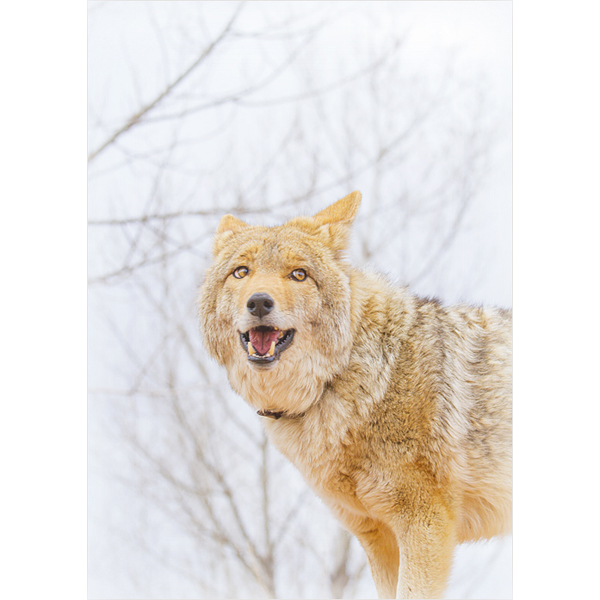 The happiest coyote I know is having his happy birthday this week!
And so am I. We'll be sharing a New York steak.
To be honest, my best birthday present ever is Charlie.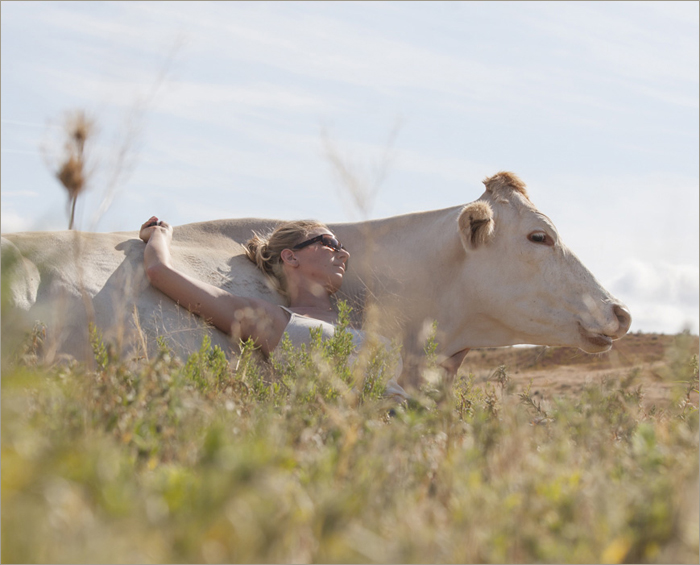 OK, I got a book deal. And Daisy stars in it!
The book came to me while I was driving last August, I started the book proposal in September, freaked out and ignored it in October, finished it in November, and sent it to my agent the week after Thanksgiving. She loved it and wanted to wait until after the holidays to send it to editors, so that happened the first week of January, an imprint of Penguin RandomHouse won the rights in a sealed-bid auction the first week of February, and we signed the contract last week, which means I finally get to share the news…. insert one-footed cartwheel here!
The working title (which means it could change) is MEDITATIONS WITH COWS and it will be out Fall 2020. Here's the blurb:
MEDITATIONS WITH COWS traverses Stockton's deeply intimate relationships with cattle via raw and visceral stories of the work and wonder of ranch life in modern America. MEDITATIONS WITH COWS is an immersive journey into understanding and honoring these strong, intuitive, and generous animals. Throughout the book, Stockton critiques the inhumane and environmentally destructive factory farm and feedlot system, and shares sustainable alternatives for ethical omnivores that prioritize the humane treatment of animals and responsible stewardship of the Earth. Stockton is the author of the bestselling The Daily Coyote: A Story of Love, Survival, and Trust in the Wilds of Wyoming along with two popular blogs.
—
This book is the culmination of the last ten years of my life and all I've learned from Daisy, et al.; all the beloved bovines with whom I've shared my life. I pray (on an hourly, tear-stained, stress-hunched basis while clutching Bird by Bird like a bible) that I will do them justice with this book.
And I'm sending another all-encompassing, from-the-bottom-of-my-heart thank you to everyone who supported The Daily Coyote: Ten Years in Photographs in 2017. Creating that book was a transformative experience for me; I exorcised some demons and remembered how deeply in love I am with books. It made me want to create another one. And here we go…….
—
If you want to be sure to get updates on the new book, you can sign up for THIS mailing list. You'll get very few emails from me over the course of this year, but I have some special secret stuff planned as we get closer to publication. Might as well sign up now so you don't have to remember to do it later! Just click HERE.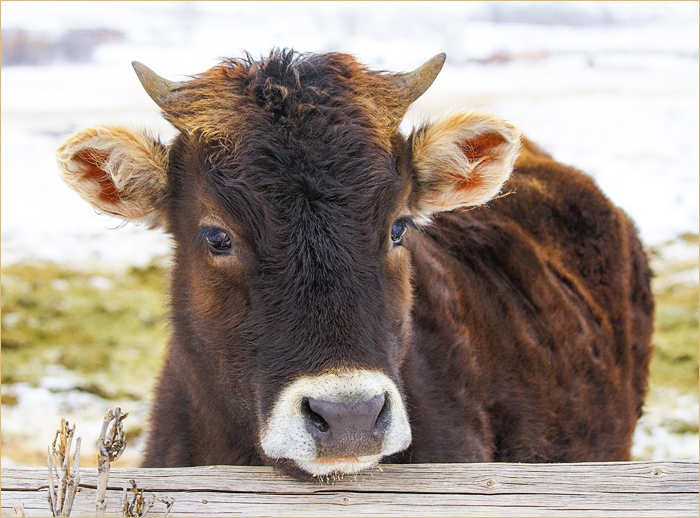 I have been trying to get good pictures of Mara for a year now.
When she sees me, she runs to me ~ and she is as fast as an antelope!
I shoot a few quick frames as she approaches on the trot, but they always end up blurry.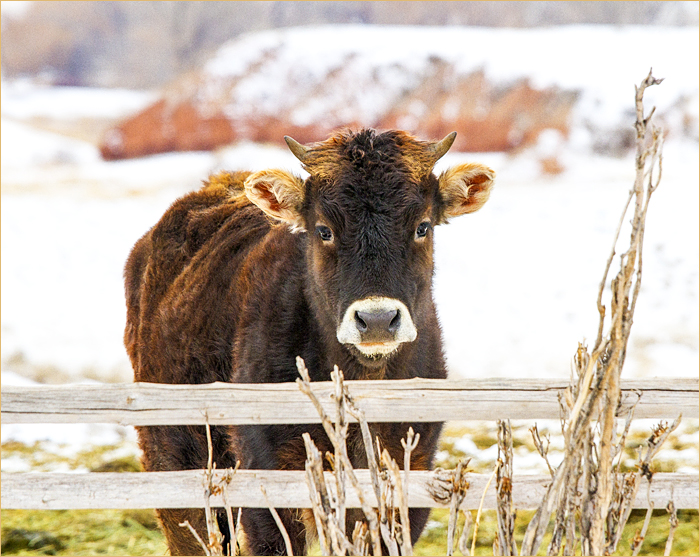 Yesterday, a fence happened to be between us, halting her advance.
And I finally got some pictures of her adorable face.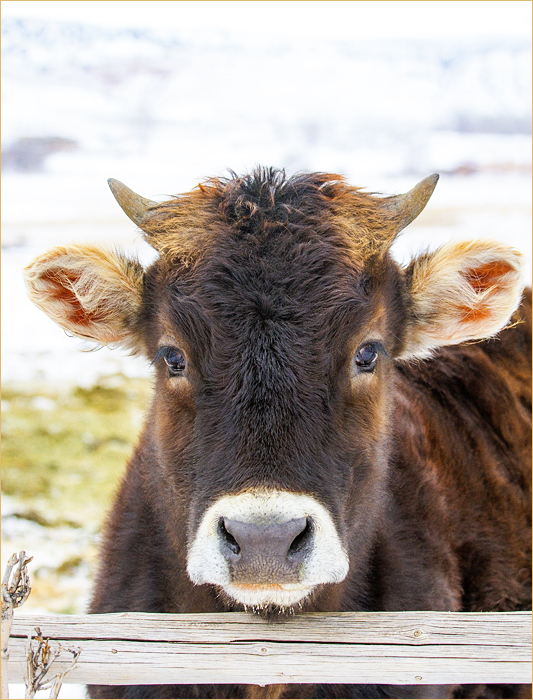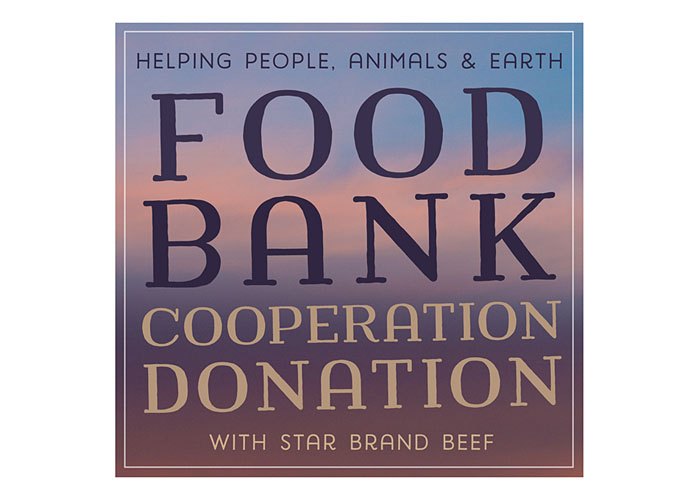 I'm thrilled and honored that the Food Bank Cooperation Donation has resonated with so many of you! Due to the logistics of delivering the beef and all the paperwork that will be done by the good people at The Food Bank of the Rockies, there's only about six weeks left to join in on this venture this year. (It will open again in January for the 2019 tax year.) If you feel called to join us in the Cooperation Donation, you may do so HERE!
And if you're like, 'what is she even talking about,' read on……
I donate beef every year to food banks, and believe that by joining together, we can give even more to those in need and keep even more animals from entering the feedlot system. I've teamed up with The Food Bank of the Rockies so that I donate the beef straight from my pasture and YOU get the tax deductions.
With your donation, you:
• help individuals and families receive nourishing, healthy food
• know your donation dollars go exclusively to food raised with organic, sustainable practices
• support ethical agriculture and the humane treatment of animals
• get a tax write-off for your kindness and generosity!
Supporting food banks was extremely important to my grandmother, the late, great Svensto, and I am honored to continue her legacy.
We all need healthy, nourishing food and I believe we all deserve it. And, for many, it's getting harder to procure. Healthy, sustainably-produced food is generally more expensive, and I have a really hard time with the fact that one's socioeconomic status determines the quality of food available.
I am disturbed by the widening chasm of income inequality. I consider this a heartbreaking crisis and I feel powerless in many ways. But I am in a position to donate the finest, healthiest, most delicious beef to food banks, and I do this with a rebel's spirit. Cooperation is a revolutionary act, I believe this with my soul.
How this works:
Donations will be collected and pooled to buy humanely-raised, organic, grass-finished beef from Star Brand Beef at wholesale (more beef for your buck). That beef will be donated to The Food Bank of The Rockies in YOUR names. I will provide The Food Bank of The Rockies with a spreadsheet of donations received (which will include your names and addresses), and The Food Bank of The Rockies will then send YOU your own, personalized 501(c)3 charitable donation paperwork in the amount of your donation for the 2018 tax year.
To contribute, click HERE. You'll see a drop-down menu of options – every amount has a big impact! Thank you so much for joining me in this venture in whatever way you feel called.
keep looking »