When a black Angus cow has a white face, she's called a black baldy.
And sometimes, her calves are baldies, too!
An important book: DEFENDING BEEF, written by vegetarian and environmental lawyer Nicolette Hahn Niman. This book is not a rah rah eat more meat echo chamber. It is a dense but easy-to-read powerhouse of a book filled with science and history, biology and ecology, and a smattering of politics to top it off. The section on soil is pure poetry… I mean it!
If you're vegetarian or vegan and care about the environment, you should read this book. If you eat meat and care about the effects of your choices, you should read this book. Basically, anyone who eats food should read this book. Find it HERE or at your local library.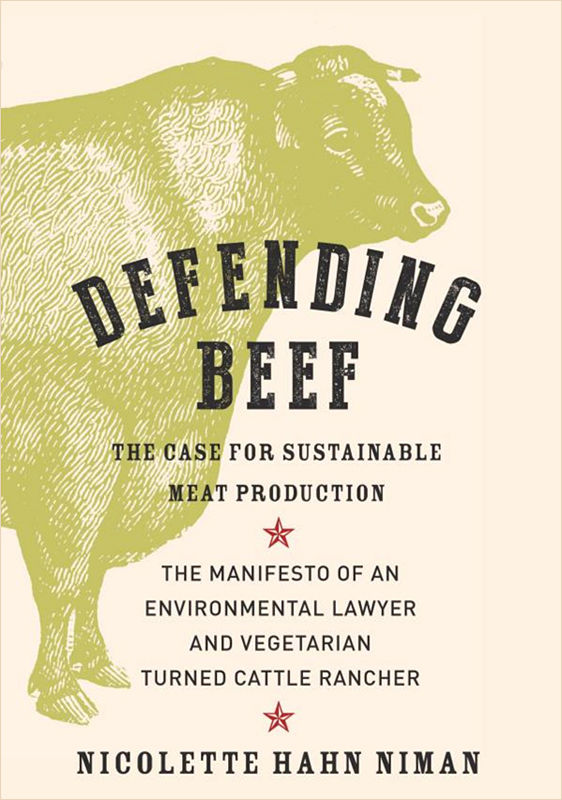 Calving season has been intense this year and I'm either out midwifing cows or recovering from midwifing cows (I got rolled down a snowy hillside by a cow with PPD when I rescued her calf from her headbanging; it's been a week since then, and all three of us are doing fine, and she is now a wonderful mother). So, I haven't been on the computer much. I sent the following story to the Star Brand Beef newsletter group the day after the Spring Equinox and, since I don't have a post prepared for this week, I'm sharing it here, too!
.   .   .
Last night, I said to Mike, "I feel like I got nothing accomplished today." And he replied, "You saved a calf's life, I'd say you had a pretty successful day."
I'd spent most of my day squatting in the damp wind with binoculars, watching a heifer (first time mother) in labor. Sometimes, heifers need extra help, and sometimes, they ignore their calves at first. I knew the latter would not be an issue for Ixchel, the cow I was watching. She had been hovering around another cow's calf while in the early stages of labor, licking it and mooing to it as if it were her own. She was ready to be a mother. But her labor was taking a long time, longer than usual, so I wanted to watch her closely without getting in her way.
Crouching in the dirt, not knowing if what I was facing was going to be beyond my level of expertise, my heart beat ever-more-nervously as Ixchel got closer to delivery. I had my cell phone tucked into the shaft of my muck boot in case I needed to call for backup. When the calf's hooves emerged, I knew things were leaning in a positive direction because the calf was not breach. And I also realized why Ixchel's labor had been more prolonged than usual – her water hadn't broke, and her calf hadn't burst through the amniotic sac. Her calf was being delivered while still inside the amniotic sac! In humans, this is called an "en caul" birth and is quite rare.
Once the calf's front hooves were out (though still enclosed in the amniotic sac), Ixchel lay down and began pushing in a slow, steady rhythm. The moment the calf's head and shoulders emerged, I dropped my binoculars in the dirt and sprinted over to Ixchel and tore open the amniotic sac with my hands. I cleared the membrane and fluid from around the calf's nose and mouth just as Ixchel pushed again and the calf's rib cage emerged – when this happens, the baby is compelled to take its first breath. And if this calf had done so while still enclosed in the amniotic sac, she would have suffocated or drowned. But happily, she took a big breath of air and, with one last push from Ixchel, slithered out, wide eyed and perky. Birth is so wild.
Ixchel immediately got up and mooed a lullaby to her new baby and began licking her off, licking and licking and mooing and mooing. I got no paperwork or office work done, but I got to spend the day where it mattered.
.   .   .
PS: For a full-circle experience, you can read the story of Fiona giving birth to Ixchel HERE.
PPS: You can sign up for the Star Brand Beef newsletter HERE.
That right there is over ONE THOUSAND POUNDS of packaged Star Brand Beef that we donated to The Food Bank Of The Rockies! I say 'we' because I was not alone in this – nearly 100 wonderful people joined me to help make this huge, beautiful donation possible.
I hit up a trucker scale on my way to the delivery (loaded) and afterward (empty) and, drumroll…. 'twas precisely 1140 pounds of organic, humanely-raised, GMO-free, antibiotic-free, pastured, grass-finished uber-healthy beef. YES! We all need nourishing, healthy food and we all deserve it.
The Food Bank Of The Rockies is serving nearly twice as many people this year as it did last year. The circle of sharing is so real, and so important.
On a superficial note: I love my little red reefer truck SO MUCH! I was downright giddy, ecstatic really, while driving it again. I felt like I was traversing the snowy December landscape in Rudolph's nose. Perhaps her formal name is Rudy, hmmmm…. Here's an interior pic:
Thank you, thank you, for your incredible support this year, and for Helping Fight Hunger with Star Brand Beef. This is just the beginning!
It's dark at 9pm and it's dark at 6am – the light changed while I was gone. It's not summer anymore, equinox schwequinox.
—–
I've been home for a week since my final Star Brand Beef deliveries and, as always, it's a little weird adjusting from my time as a turtle. My little red reefer truck was my home for three weeks, four delivery routes, 8181 miles – and I loved every second of it, despite the truck having issues every. single. day. (the truck kept me safe and all my beef safe, so, hooray for that). I absolutely love getting to spend time with my customers, long-time readers, email pals, and the opportunity to move beyond the veil of the internet into real life.
—–
I think it might be time to hire seasonal help next year, spring and summer. Maybe even sooner. More details on that as soon as I get logistics worked out in my head. I would love to give someone from "the outside world" a chance to come in and work in agriculture and be part of sustainable, ethical food production…… so much to figure out, though!
—–
Last night's dinner: organic brown rice cooked in homemade bone broth, served with seared elk tenderloin. Does this sound like a special menu item at an elegant restaurant? Did I mention this was Charlie's and Chloe's dinner? Mike had a peanut butter sandwich and I had cereal.
—–
I've been home for a matter of days and have already dove head first into a giant new project, which will debut next year and which I know you will LOVE. It is a love project. After 2014 and 2015, when I was barely functioning and just trying to keep myself and my businesses alive, it feels SO GOOD to work hard!
—–
Farmily update: everyone is wonderful and happy and peaceful – Mike held down the fort while I was away, and, thanks to having my own truck, I got to spend time at home with the Farmily between each delivery trip. It made a world of difference for me and them!
—–
AND, since I've been getting emails about this already: the 2017 CHARLIE CALENDAR is coming! I would never break tradition! It will be ready to share mid-October….
My Kickstarter ended Friday and was funded at over 200%! HUGE love and thanks for sharing and supporting my Kickstarter, Star Brand Beef, and the revolution against feedlots and factory farms. The Kickstarter has been a catalyst for a lot of discussion and thought, which is powerful – sometimes uncomfortable, always good. There is much more to share, but right now I'm off to Thermopolis (quite possibly the best town name ever, after Shreve, Ohio) for speech therapy (this voice is still a work in progress) and a soak in the hot springs….
keep looking »