I've been writing The Long & Winding & Beautiful and Tragic Story of 3M for a few reasons. One: to share, pure and simple. Two: to get this story on paper and out of my brain, because it's something I want to hold on to. Three: because I need your help, or advice, or ideas, or perspective. Here's the thing: all the characters in this beautiful true story are Angus cows and calves – that is to say, beef cows and calves. You care about them. I care about them. My hope, my wish, my dream, is that the general population, society at large, comes to care about the animals that produce and become our food (and our pets' food) the way that you and I care about the cows in The Story of 3M. Because all of the animals that produce and become our food (and our pets' food) are individuals with personalities as vast and endearing as the animals I write about. Every single one. If I hadn't bought Daisy when I did and if she had stayed at the dairy for seven months longer than she did, Frisco would have been veal. Our conventional food system, the way it is currently arranged, does not treat animals very well. The environment is often treated poorly, too. How do we change the status quo?
The answer is not as simple as "everyone should be vegan." That's not realistic, as many bodies do not thrive without meat, myself included, (and not for lack of trying). I've also come to the conclusion that, for me, eating organic, grass-finished beef is more ecologically responsible than getting the bulk of my protein from plants. Defending Beef (written by a vegetarian environmental lawyer) explains in depth the restorative effects of grazing animals and the detrimental effects of cultivated crops on climate change, sequestering carbon, and preserving topsoil, which is why I feel this book is an important read for everyone, not just meat eaters.
I love cows, I eat meat, I raise beef cattle, and I sell meat to other people who eat meat. I have been called a hypocrite murderer via email more times than I can count. I don't see myself or my work that way – I see it exactly the opposite and have written about that here. And as I stated in that post, none of this is easy. I'm not doing it for "easy." I'm doing it to change the world. And sometimes it feels so impossible, the necessary shifts insurmountable. And so I tell myself that even if I don't change the world, I can change the lives of some animals by keeping them out of the feedlot system, and of my customers by providing them with extraordinary, healthy meat that is aligned with their values, and that these small changes matter. Strangely, even when it feels impossible, I can see my dream of the future so clearly… the solutions, the big picture, the potential! I can see it all spread out in front of us, as clear and distant as the view of Earth from the window of an airplane.
I'm reading a book called Emergent Strategy by Adrienne Maree Brown and I'm in love with it – this book gives me hope and determination. Full book report coming when I finish it, but for now: emergent strategy is "strategy for building complex patterns and systems of change through relatively small interactions…." Wow. Yes. This blog post is a relatively small interaction. What might it do? What mycelienic network is it part of and how will that network expand? Star Brand Beef is a relatively small interaction, a microbusiness. I started it and continue it because it's an alternative to the status quo and if the status quo is going to change, alternatives must be available. And a network of people – my incredible, creative customers and supporters of this work – keep it alive, keep it evolving. I could not do it on my own.
I learned quickly that I need to completely clear my schedule during the weeks I take my steers to transition from living beings to nourishing food. It's hard. It's intense. I still cry and I know I always will. I thank the animals – I wrap them in layers upon layers of prayers of gratitude – not just from me but from every one of my customers who will be sustained by them for the coming year. And all year long, after every burger, every steak, I say "holy wow, Star Brand Beef is the best!" And I say thanks to the animals again.
I was talking to my mom the other night (I've turned her on to keto) and she mentioned how much she likes chicken. And when I asked her where she bought her chicken, she said 'the store' and when I asked her about the kind of chicken, the life and backstory of the chicken she bought and ate, she said she didn't know, that she never really thought about it. And I gave her my schpeal about the inhumane treatment commercially-farmed chickens endure before they become grocery store chicken, and how, on the flip side, she could have an incredible impact on the life of an indie chicken farmer if she went to the farmers market or read the local classifieds and found someone raising pastured chickens, someone who cared for and respected their chickens and raised them in a way that served the planet and honored the birds. "You will make a difference," I told her, "to that chicken farmer and to every single chicken you eat." And part of me was screaming inside because why did I have to spell this out for her? She sees what I go through with Star Brand Beef, has heard my passionate rants against factory farms and the inhumane treatment of animals and earth. And I wonder how often she'll consider this going forward. Sometimes, maybe? Will she think about it every time she eats chicken?
Pastured, humanely-raised meat (be it beef, pork, or fowl) is more expensive than factory farmed meat. This is because doing right by the animals and by Mother Earth takes more time and effort and care and money and space. But what is of greater value than healthy, nourishing food that was raised ethically, prioritizing the sustainability of agricultural practices, the well-being of the animals, the environmental impact? It SHOULD cost more. This idea that food should be the cheapest thing we spend our money on is the dark side of capitalism: the system has been rigged to train us to buy cheap food so we have money left over to spend on more clothes and knick knacks than we need, often made by cheap, exploitative labor, and then, perhaps, an expensive, brand new car on credit because that's our collective sign of success. Let's not! Let's buy perfectly decent used cars, get our wardrobes from thrift stores (all my cashmere has come from thrift stores), and spend more on the most important thing: healthy food, produced ethically and sustainably.
"I spend most of the money that comes my way on food, and most of my time thinking about, procuring, preparing, and consuming food…and this seems as it should be. This is my definition of right relationship to our food- that it should be an all consuming relationship that leaves little room for things like shopping addictions or toxic friends or any of the other trouble we find ourselves in with all the extra time that convenience foods afford us." (Erin Rivera Merriman, Active Culture Family)
"How do we create and proliferate a compelling vision of economies and ecologies that center humans and the natural world over the accumulation of material?" (Adrienne Maree Brown, Emergent Strategy).
"Refuse what you do not need; reduce what you do need; reuse what you consume; recycle what you cannot refuse, reduce, or reuse; and rot the rest." (Bea Johnson, Zero Waste Home).
Not everyone can afford to make these choices. Not everyone can afford food, period. Which leads me to my latest venture, another small act of emergent strategy: a collaboration between Star Brand Beef, The Food Bank of the Rockies, and, if you're interested, you.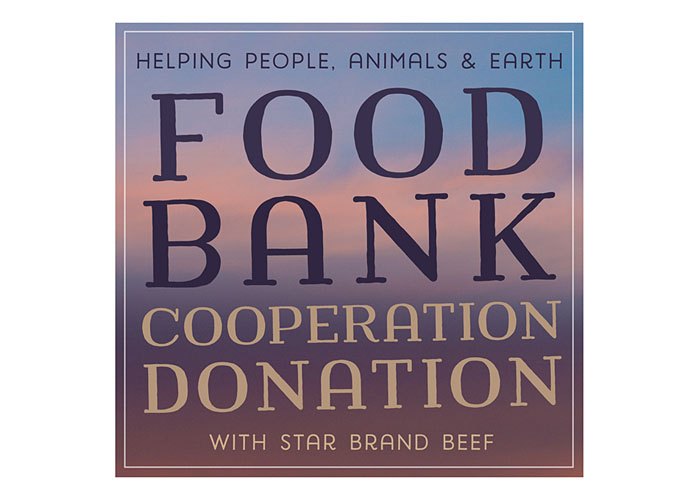 I donate beef every year, personally, but believe that together, we can donate even more to those in need and keep even more animals from entering the feedlot system, and I've teamed up with The Food Bank of the Rockies so that YOU get the tax deductions.
Supporting food banks was extremely important to my grandmother, the late, great Svensto, and I am honored to continue her legacy.
We all need healthy, nourishing food and I believe we all deserve it. And it's getting harder to procure, especially in certain areas like food deserts. Healthy, organic food is generally more expensive, and I have a really hard time with the fact that one's socioeconomic status determines the quality of food available. The healthiest (and most sustainably produced) food should not be exclusive to the economically-advantaged.
I am disturbed by the widening chasm of income inequality. I consider this a heartbreaking crisis and I feel powerless in many ways. But I am in a position to donate the finest, healthiest, most delicious beef to food banks, and I do this with a rebel's spirit. Cooperation is a revolutionary act, I believe this with my soul.
How this works: Donations will be collected and pooled to buy humanely-raised, organic, grass-finished beef from Star Brand Beef at wholesale (more beef for your buck). That beef is donated to The Food Bank of The Rockies in YOUR names. I will provide The Food Bank of The Rockies with a spreadsheet of donations received (which will include your names and addresses) and The Food Bank of The Rockies will then send YOU your own, personalized 501(c)3 charitable donation paperwork in the amount of your donation for the 2018 tax year.
To contribute, click HERE. You'll see a drop-down menu of options – every amount makes a difference. Thank you so much for joining me in this venture in whatever way you feel called.
Thank you for reading this far.
I look forward to reading your thoughts…….
And now stay tuned for our regularly scheduled programming: Part V of The Long and Winding and Beautiful and Tragic Story of 3M is here.
When a black Angus cow has a white face, she's called a black baldy.
And sometimes, her calves are baldies, too!
An important book: DEFENDING BEEF, written by vegetarian and environmental lawyer Nicolette Hahn Niman. This book is not a rah rah eat more meat echo chamber. It is a dense but easy-to-read powerhouse of a book filled with science and history, biology and ecology, and a smattering of politics to top it off. The section on soil is pure poetry… I mean it!
If you're vegetarian or vegan and care about the environment, you should read this book. If you eat meat and care about the effects of your choices, you should read this book. Basically, anyone who eats food should read this book. Find it HERE or at your local library.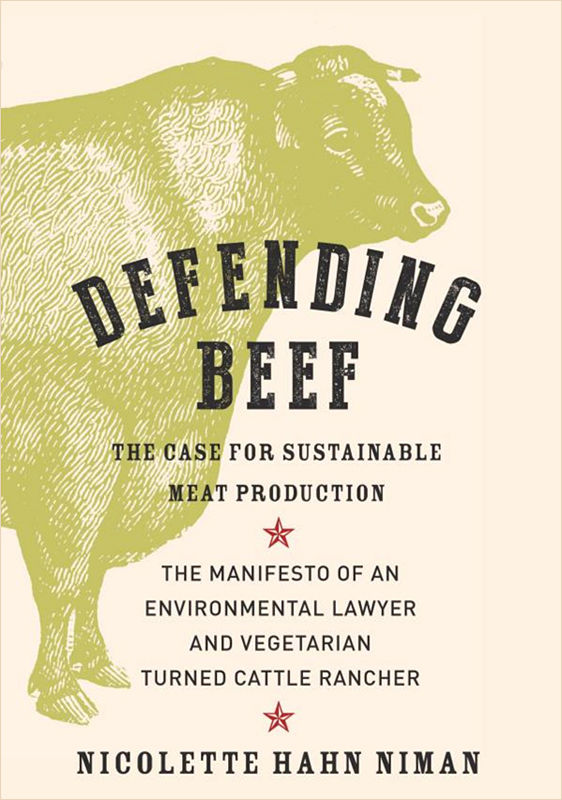 Calving season has been intense this year and I'm either out midwifing cows or recovering from midwifing cows (I got rolled down a snowy hillside by a cow with PPD when I rescued her calf from her headbanging; it's been a week since then, and all three of us are doing fine, and she is now a wonderful mother). So, I haven't been on the computer much. I sent the following story to the Star Brand Beef newsletter group the day after the Spring Equinox and, since I don't have a post prepared for this week, I'm sharing it here, too!
.   .   .
Last night, I said to Mike, "I feel like I got nothing accomplished today." And he replied, "You saved a calf's life, I'd say you had a pretty successful day."
I'd spent most of my day squatting in the damp wind with binoculars, watching a heifer (first time mother) in labor. Sometimes, heifers need extra help, and sometimes, they ignore their calves at first. I knew the latter would not be an issue for Ixchel, the cow I was watching. She had been hovering around another cow's calf while in the early stages of labor, licking it and mooing to it as if it were her own. She was ready to be a mother. But her labor was taking a long time, longer than usual, so I wanted to watch her closely without getting in her way.
Crouching in the dirt, not knowing if what I was facing was going to be beyond my level of expertise, my heart beat ever-more-nervously as Ixchel got closer to delivery. I had my cell phone tucked into the shaft of my muck boot in case I needed to call for backup. When the calf's hooves emerged, I knew things were leaning in a positive direction because the calf was not breach. And I also realized why Ixchel's labor had been more prolonged than usual – her water hadn't broke, and her calf hadn't burst through the amniotic sac. Her calf was being delivered while still inside the amniotic sac! In humans, this is called an "en caul" birth and is quite rare.
Once the calf's front hooves were out (though still enclosed in the amniotic sac), Ixchel lay down and began pushing in a slow, steady rhythm. The moment the calf's head and shoulders emerged, I dropped my binoculars in the dirt and sprinted over to Ixchel and tore open the amniotic sac with my hands. I cleared the membrane and fluid from around the calf's nose and mouth just as Ixchel pushed again and the calf's rib cage emerged – when this happens, the baby is compelled to take its first breath. And if this calf had done so while still enclosed in the amniotic sac, she would have suffocated or drowned. But happily, she took a big breath of air and, with one last push from Ixchel, slithered out, wide eyed and perky. Birth is so wild.
Ixchel immediately got up and mooed a lullaby to her new baby and began licking her off, licking and licking and mooing and mooing. I got no paperwork or office work done, but I got to spend the day where it mattered.
.   .   .
PS: For a full-circle experience, you can read the story of Fiona giving birth to Ixchel HERE.
PPS: You can sign up for the Star Brand Beef newsletter HERE.
That right there is over ONE THOUSAND POUNDS of packaged Star Brand Beef that we donated to The Food Bank Of The Rockies! I say 'we' because I was not alone in this – nearly 100 wonderful people joined me to help make this huge, beautiful donation possible.
I hit up a trucker scale on my way to the delivery (loaded) and afterward (empty) and, drumroll…. 'twas precisely 1140 pounds of organic, humanely-raised, GMO-free, antibiotic-free, pastured, grass-finished uber-healthy beef. YES! We all need nourishing, healthy food and we all deserve it.
The Food Bank Of The Rockies is serving nearly twice as many people this year as it did last year. The circle of sharing is so real, and so important.
On a superficial note: I love my little red reefer truck SO MUCH! I was downright giddy, ecstatic really, while driving it again. I felt like I was traversing the snowy December landscape in Rudolph's nose. Perhaps her formal name is Rudy, hmmmm…. Here's an interior pic:
Thank you, thank you, for your incredible support this year, and for Helping Fight Hunger with Star Brand Beef. This is just the beginning!
It's dark at 9pm and it's dark at 6am – the light changed while I was gone. It's not summer anymore, equinox schwequinox.
—–
I've been home for a week since my final Star Brand Beef deliveries and, as always, it's a little weird adjusting from my time as a turtle. My little red reefer truck was my home for three weeks, four delivery routes, 8181 miles – and I loved every second of it, despite the truck having issues every. single. day. (the truck kept me safe and all my beef safe, so, hooray for that). I absolutely love getting to spend time with my customers, long-time readers, email pals, and the opportunity to move beyond the veil of the internet into real life.
—–
I think it might be time to hire seasonal help next year, spring and summer. Maybe even sooner. More details on that as soon as I get logistics worked out in my head. I would love to give someone from "the outside world" a chance to come in and work in agriculture and be part of sustainable, ethical food production…… so much to figure out, though!
—–
Last night's dinner: organic brown rice cooked in homemade bone broth, served with seared elk tenderloin. Does this sound like a special menu item at an elegant restaurant? Did I mention this was Charlie's and Chloe's dinner? Mike had a peanut butter sandwich and I had cereal.
—–
I've been home for a matter of days and have already dove head first into a giant new project, which will debut next year and which I know you will LOVE. It is a love project. After 2014 and 2015, when I was barely functioning and just trying to keep myself and my businesses alive, it feels SO GOOD to work hard!
—–
Farmily update: everyone is wonderful and happy and peaceful – Mike held down the fort while I was away, and, thanks to having my own truck, I got to spend time at home with the Farmily between each delivery trip. It made a world of difference for me and them!
—–
AND, since I've been getting emails about this already: the 2017 CHARLIE CALENDAR is coming! I would never break tradition! It will be ready to share mid-October….
keep looking »