☆ February 2, 2021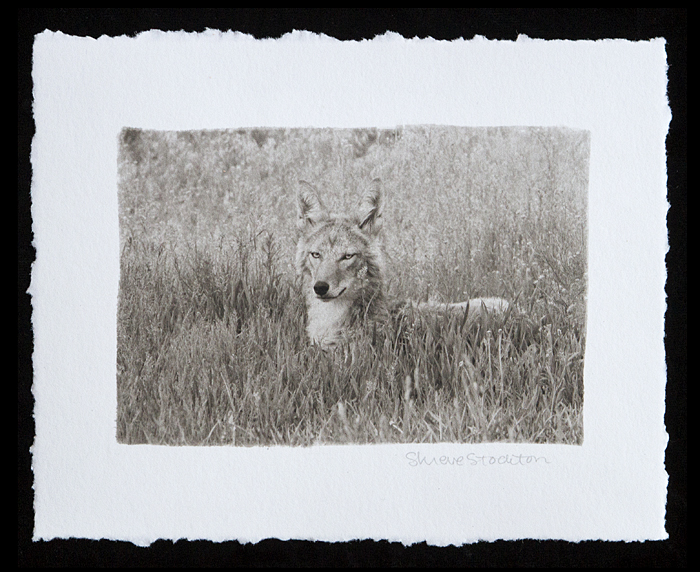 In the fall of 2017, after I finished the coffee table book celebrating Charlie's tenth birthday and had sent it off to the printer, I was in that weird state of being absolutely buzzed from completing the project and also exhausted from the work. I couldn't sit still and I couldn't focus on normal stuff. The book had turned out better than I'd ever imagined and sales had too, so I gave myself a gift I'd wanted for years. I drove to New Mexico for a week-long one-on-one apprenticeship with David Michael Kennedy, one of the living masters of Platinum/Palladium printing.
Platinum/Palladium printing is one of the oldest photographic printing techniques. A light-sensitive solution of platinum and/or palladium is hand-painted onto watercolor paper, and a contact print is made under ultraviolet light – traditionally, the sun.
I also learned how to make high-quality negatives from my digital files, which allows me to create Platinum/Palladium prints from pictures of Charlie that I've taken with my digital camera.
Platinum/Palladium prints are gorgeous, truly luminous, with a tonal range that surpasses any other form of photographic print. (Frustratingly, it's impossible to see the incredible print quality through a computer screen.)
The noble metals bond with the paper itself, so Platinum/Palladium prints are estimated to last thousands of years without any deterioration in the quality of the print. The Platinum/Palladium process is a spectacular blend of art, science, and magic.
It's also quite rare these days. Platinum and palladium are expensive materials to work with, and each print is made, from start to finish, by hand. In 2018 I set up a darkroom to start printing at home, but then I decided to write another book and my fine art was put on hold. Till now.
I'm debuting this work with one of my all-time favorite pictures of Charlie, in platinum and palladium (50/50). I'm offering it for auction with 100% of the proceeds going to mutual aid. The funds will be donated to this reparations campaign: Homes for Black Women.
My friend Allison of Sunny Rising has coordinated this fundraiser with a great group of artists – there is beautiful work on offer, and you can find links to it all on her most recent post.
Charlie in Platinum & Palladium on Italian rag watercolor paper / image area measures 4″ x 5.5″ / archivally mounted on rice paper under glass / handmade barn wood frame measures 10″ x 12″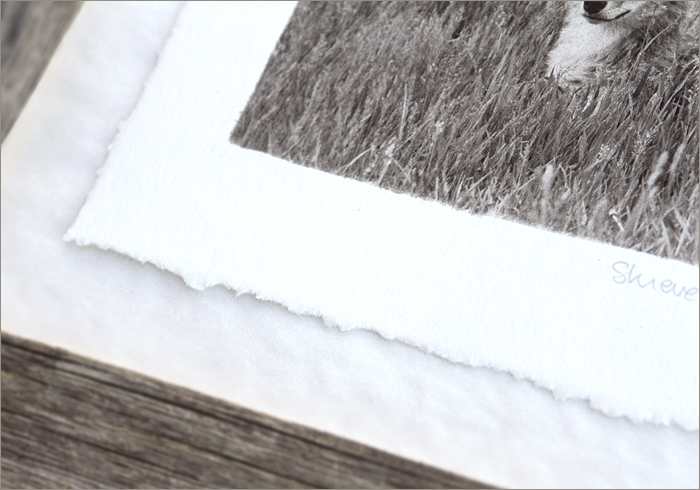 Please leave your bids in the comment section. The auction is also running on my instagram page – I'll be cross-posting the highest bids from both places periodically so everyone knows what's up (instagram seems to prohibit people without accounts from seeing anyone's pages anymore, boo). Check back here to see if you've been outbid! The auction will close February 9th at 9PM MST.
I'm slowly resurfacing and will write more soon…. in the meantime, thank you for all the love messages – let's share that love with this reparations campaign!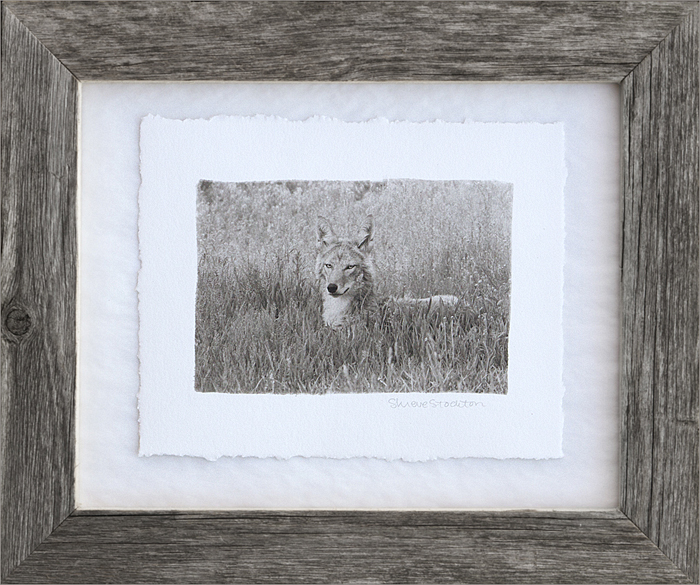 ☆ December 1, 2020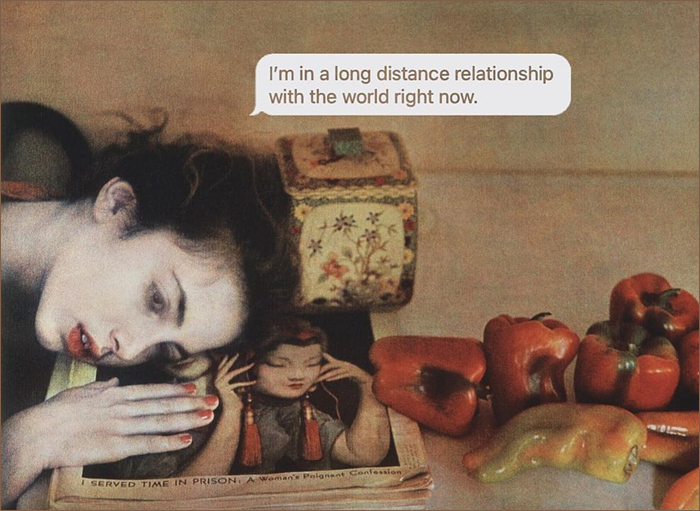 It's been intense over here. Two weeks after Charlie died, Mike's dog Pita died. And two weeks later, my 18-year-old cat Rue died. Pita was a year older than Charlie. She had really slowed down this summer but we wondered if she had six months left, or a year? But after Charlie died, Pita cratered. She stopped eating and got very weak very quickly and died in her sleep.
Rue was a feral cat I met at the barn when I got Daisy. She moved into the cabin with her kittens in 2010 and she and Mushy (one of her kittens) have been with me ever since. I haven't written much about Rue in recent years, but she was an angel in kitty form. She was the sweetest. I loved her so much, and learned so much from her.
She had cancer, which I caught very early almost three years ago. Because of her age and the fact that she was extremely afraid of all humans other than me and Mike (and it took her years to warm up to Mike), I decided not to address her cancer. I really believed that a trip to the vet would give her a heart attack.
Her tumor grew but she didn't show any discomfort – her appetite and activity level stayed normal and she loved to cuddle. Then suddenly, a few days after Pita died, Rue began eating less and moving around less. For the past several years, she always slept right next to my head, but she started spending nights in her favorite chair in my bedroom.
I pulled her favorite chair right next to my bed so that I could check on her and pet her during the nights. One night, I woke up around 1am and found Rue purring right next to my head, like she always had. I knew she was going to die the next day. I spent the morning on a cushion on the floor beside her favorite chair, just hanging out with her while she rested. Around noon, Rue jumped off the chair and curled up against my chest and died in my arms.
We lost half our house Farmily in one month (I do not count Ivan; he is a demon who lives in this house and who I tolerate because Sage loves him). It's been rough. And still I choose love. This is something to be proud of.
——
My web magician has set up some really cool code for Charlie's blog. Starting on Thursday, the top blog post will feature a photo of Charlie from our vast archives, which will change every time you visit the blog. I didn't want the daily pictures to end, or for the blog to become static. With this new feature, there will always be a surprise from Charlie when you visit The Daily Coyote. I hope you enjoy it as much as I will.
——
Mike is picking up the first batch of Charlie Calendars today. All international orders and orders with more than one calendar will fly out tomorrow, and single calendar orders will follow later in the week. Everything ordered to date should be en route by Monday. You'll get a tracking number automatically via email when your order ships.
There will not be another shop update until next year. I know there's demand for prints and chew toys and more but I'm not taking on more than I can handle right now, and I just can't handle overseeing orders other than calendars at the moment.
——
It's the last chance to be part of the Food Bank Cooperation Donation for 2020! This awesome program will close for the year in mid-December and reopen in January.
I hope you all are able to revel in moments of peace and beauty every day. Trust that I am, too.
☆ September 9, 2020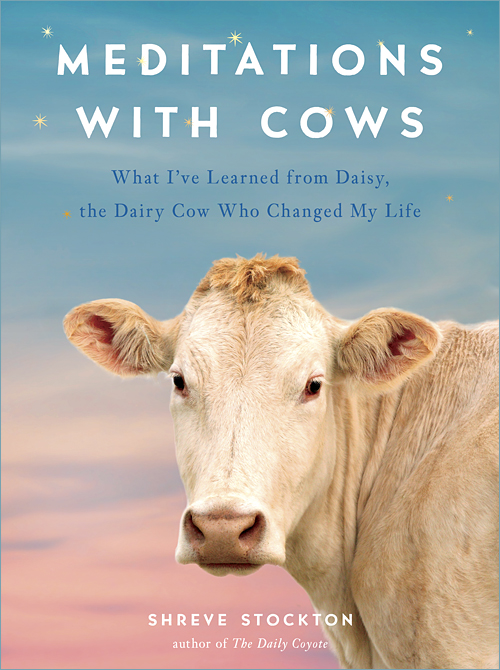 If this summer had not been this summer and if I had not been in frantic survival mode for the past six months, I would have done a long, slow rollout leading up to the debut of my new book, Meditations with Cows. But it was, and I didn't, and my book is going to be REAL in two short weeks! So buckle up and grab a drink, I have like 1500 words for you about the 70,000 words I spent almost two years writing!
The short version: I'm so thrilled to announce that Meditations with Cows will arrive in the world on September 29 and you can order it now! Signed copies are available through my local indie bookstore for orders placed in September ONLY. You can order signed copies HERE. You can also get the book through Amazon or Bookshop. All preorders placed in September will receive a free gift – more info on this below.
Meditations with Cows is the most personal thing I've ever written, the most political thing I've ever written, and the most well-written thing I've ever written. If you've been reading my blog for years, you'll recognize some stories, but most of it is completely new. I put every last drop of my heart and soul into this book. The team at Penguin Random House has done an incredible job with the layout – it's absolutely gorgeous, with full-color photographs placed throughout the text.
In May, I submitted a chapter of Meditations with Cows to the Wyoming Arts Council Writing Fellowship in Creative Nonfiction and…… I WON! I really, really wanted to win. Not for the money or the prestige, but for the external validation – to know that this book was of a high enough caliber to win.
When I got the final manuscript, I gave it to Mike to read for the first time. He had read sections here and there, but never the whole thing. He read it three times in a row, back to back. And he said that every time he read it, he noticed more and more – little details resonated and clicked on subsequent readings. It's true – there are puzzle pieces in the first few chapters that you won't know are there until you read the whole book. This book is FUN and it is DEEP. I'm so proud of it.
The last "real" book I wrote, The Daily Coyote, came out six weeks after the financial crash of 2008. Now, Meditations with Cows is coming out during a global pandemic and an even worse financial crisis. What are the odds? When I think about this, I feel very sad and sorry for myself. My heart has hurt for everyone who has had a book published this year. To spend so much time and energy working on One Big Thing (often alone, often mired in insecurity) and then, when it's finally ready to share, to be confronted with the reality that many, many people are too stressed to notice that your book even exists brings a strange kind of pain. The pain feels a little selfish, or at least self absorbed, because our current reality is bringing much bigger pain to so many. But it's also a valid pain – I didn't write this book for my own gratification, I wrote it because I believe everything this book contains is worthy of being read and shared.
What keeps me from sinking too deep into despair is a very strong conviction (hope? delusion?) that this book will be one that travels through word of mouth. I really believe that when you read this book, you'll find yourself compelled to talk about it to someone you know, or post a passage to social media, or call someone to read them a paragraph – that people will talk about this book because they won't be able to stop thinking about it. And that more people will learn about the book through this kind of sharing than through a feature in People Magazine (as was the case with The Daily Coyote).
I feel like I'm getting carried away in a sales pitch and I don't mean to be – I just think this book is worth your $25. And if, like so many, you don't have a spare $25 right now, you can call or email your local library to request that they acquire a copy of Meditations with Cows. Requests help librarians and they help the book.
If you would like to order a copy for yourself (or for your library or for your friends), I've got links for you!
Signed copies are available through Storyteller Books in Thermopolis, Wyoming and you can order online HERE. Signed books will ONLY be available for orders placed in the next three weeks! This is because Storyteller Books is the closest bookstore to my house, yet it is still 70 miles away and I can't zip down there to sign books here and there indefinitely. So, if you'd like a signed copy, place your order RIGHT NOW! Storyteller Books is offering a 10% discount for all orders placed online HERE. During checkout, be sure to click "Order Comments" and type "SIGNED BOOK" in the message field. You may also include your name, or the names of those to whom you are gifting books, and I will personalize each copy. No need to place separate orders for multiple books UNLESS you want books shipped to different addresses.
The book is also available through Bookshop, which is like Amazon in that you can find every book you can think of and have it shipped to your door, but unlike Amazon, all sales support indie bookstores. Click HERE to order through Bookshop.
You can also get the book through Amazon HERE.
The audiobook is also available through Amazon and Bookshop, and is read by the same narrator as The Daily Coyote.
Here's what early readers have to say about the book:
"How wonderful it is to come across the extraordinary magic of Shreve Stockton's writing. She writes from a position of authenticity and great love. Her intelligence and sensitivity suffuse everything from the way she describes the personalities of her cows to the much needed lessons on grazing and pastureland. With her work rooted in the land itself, Stockton presents a vivid picture of Wyoming to readers who may not otherwise know or understand what a working ranch is like. Meditations with Cows will enchant and thrill every reader, and arrives at a critical time when understanding each other is vital and crucial to our survival."
—Marie Mutsuki Mockett, author of American Harvest
"In Meditations with Cows, readers will find themselves in a beautiful world, led on an exploration that connects them back to the land, back to their food, and ultimately, back to themselves. With tales of ranching in the West, a wealth of information about our food system, and an invitation to participate, Meditations with Cows weaves together so many important threads. Stockton is a master wordsmith, the modern Aldo Leopold and Wendell Berry I'd been looking for."
—Kate Kavanaugh, founder of Western Daughters Butcher Shop and Ground Work Collective
"Meditations with Cows takes you on a provocative and thoughtful journey through the best and worst parts of the modern food system. The relentless forces of industry and profit are straining the biosphere and the relationship with our animal kin, winding up for explosive change in the way we eat. Stockton and Daisy's story is at once an intimate memoir and an epic journey through this unique moment in human history."
—Jacy Reese Anthis, author of The End of Animal Farming
"Meditations with Cows is enchanting and profound. Shreve Stockton is a clear-eyed, fearless woman with an enormous heart—her insights on rural life are spot-on, unsentimental, and unfailingly appreciative of the bounties attending the life she has built with rigor and ardor. Don't miss this book."
—Peter Coyote, actor and author of Sleeping Where I Fall
I am so excited for you to read this book, and to hear what your favorite chapters are.
☆ September 7, 2020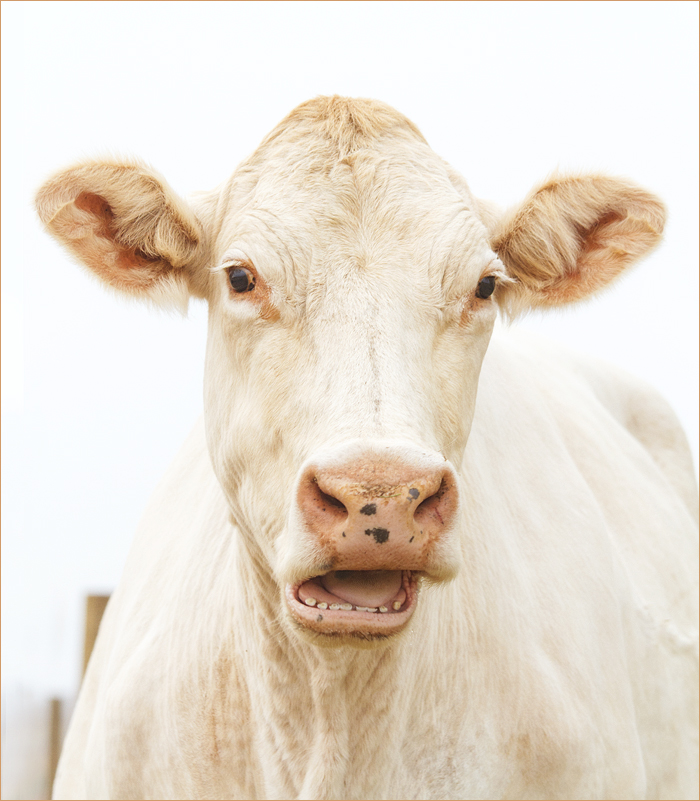 ☆ April 21, 2020
I almost missed Charlie's birthday (and my own) because I have no idea where I am in time and space. Who does these days? Charlie is 13!
.   .   .
I haven't posted here in ages because I gave everything I had to the book. I just got the typeset pages and the layout is so gorgeous, you will freak out when you see it. The publishing team has done an incredible job. I gave it to Mike and he read half of it in one sitting, stopping only because it was midnight, and finished it the next day. So, that's a good sign. He's biased, obviously, but a discerning reader.
I have no idea how this book will be received but my entire heart and soul is in this book, it's like nothing I've ever done before. If you've been reading here for years, you'll recognize some stories, but there is a ton that is new, that I've never shared. I have much more to tell you about the book as soon as I get my bearings.
.   .   .
3M is a mama! She had her first calf at the end of March and all is well.
.   .   .
I made a new website. Man, was it fun to play with colors and shapes after dealing with words for so long. I finally got all my scattered bits of internetness gathered in one place: www.shrevestockton.com
.   .   .
I know everyone is struggling right now and finances feel unstable, but if you don't feel like you're falling off a cliff, I'd like to ask you to consider contributing to the Food Bank Cooperation Donation.
Food banks are serving more people than ever right now. I'm planning to donate two whole beef this year myself – one this spring and one this summer. It would be thrilling to be able to double that contribution with your help. The Food Bank Cooperation Donation is a crowd-sourced donation. Contribute any amount that feels right to you, and you'll receive charitable contribution paperwork from The Food Bank of the Rockies to use as a tax write-off.
The money is pooled and essentially buys my grass-finished, humanely-raised beef directly from me at wholesale, and I deliver the packaged beef to the food bank for them to distribute. This arrangement supports the Food Bank of the Rockies, the people they serve, and me. And your donations go to high-quality meat from an indie rancher (me) rather than conventional beef from CAFOs.
You can join us HERE.
If anyone reading this is interested in coordinating a similar arrangement between your local food bank and your local farmers and ranchers, feel free to email me and I'll happily share all the technical details of how this works between the Food Bank of the Rockies and myself. Every dollar donated supports individuals and stays within the community instead of traveling up a ladder in the corporate food system.
.   .   .
I lost one of my favorite people to COVID19. He was my first friend in Wyoming. He moved away a few years ago and in early March (which feels like forever ago) I asked him if he was ever going to come back to Wyoming. He said probably never but I'll love you forever and we'll meet up on the road one of these days………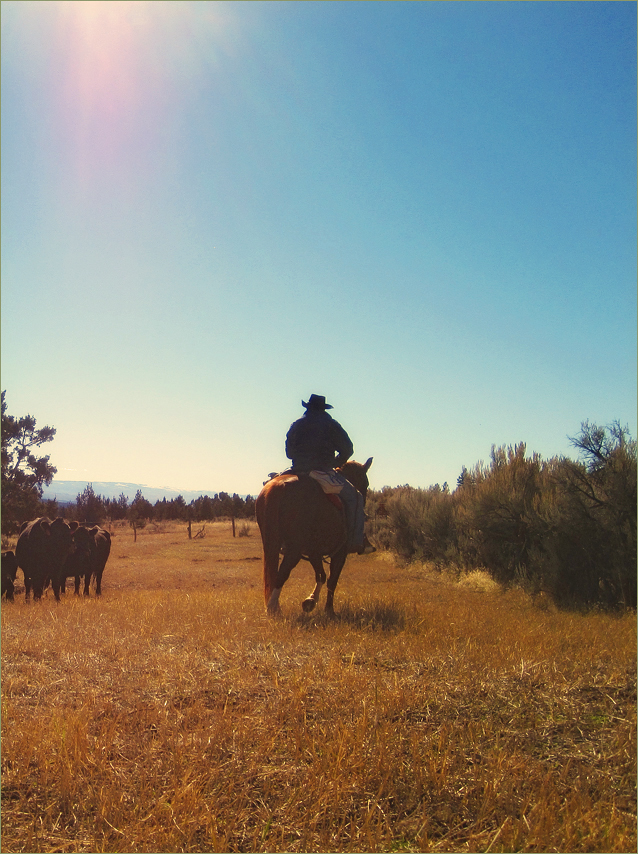 « go back — KEEP LOOKING »